President Biden vows to repair Greenwood in Tulsa but stops short of saying reparations
Deon Osborne, Associate Editor, The Black Wall Street Times
June 2, 2021
As descendants of the Tulsa Race Massacre filled the seats behind a podium prepared for President Biden inside Tulsa's Greenwood Cultural Center on Tuesday, the air was filled with excitement, but most of all, hope that a U.S. president would for the first time recognize the brilliance of Black Wall Street, the racist destruction of Greenwood in 1921 and a need for systemic repair.
Shortly before addressing the crowd, President Biden took a brief tour of the main gallery room of the Greenwood Cultural Center. With a solemn tone, he listened as GCC program coordinator Mechelle Brown gave him a history of Greenwood, from triumph to tragedy.
After Brown explained how hundreds of insurance claims in the '20s were denied due to a racist interpretation of a riot clause, Biden set the record straight, saying "It wasn't a riot. It was a massacre."
President speaks in Greenwood
Moments later, Biden took the stage in the Greenwood Cultural Center's auditorium, surrounded by the Congressional Black Caucus, civil rights leaders, massacre survivors and descendants and community members of Greenwood. With his historic visit and speech, he did something White politicians have rarely done for Greenwood; he showed empathy and understanding.
While twice-impeached former president Donald Trump came to Tulsa for a rally in 2020, Biden's visit marks the first time any president has ever visited the Black community of Greenwood.
"Only with truth can come healing and justice and repair…but that isn't enough," Biden told the crowd.
J.B. Stradford descendant
Before giving his address, a descendant of famous Greenwood hotel owner J.B. Stradford testified to the resilience of Greenwood and the anguish her family has experienced due to never inheriting the generational wealth that was stolen from her self-starting ancestor.
"He was falsely indicted for inciting a riot by an inflamed White grand jury for daring to stand up with his community to stop a mob from breaking into the jail and lynching a Black teenager named Dick Rowland…my family worked to get these charges against J.B. dropped posthumously," descendant Lauren Usher said.
"He [Biden] understands that as a nation we are and we must be strong enough to confront the dark periods of our history with a bold agenda of equity, repair and healing," Usher added.
Oklahoma Democratic Party leader
With a 180-degree shift from a year ago, when Tulsa Mayor G.T. Bynum allowed Trump to hold his divisive rally in the city, the room was full of powerful Black and brown change-makers.
The Black Wall Street Times was able to speak directly with several members of Oklahoma's Black Caucus, members of United States Congress, a Hollywood actor-turned activist, and modern civil rights leader Rev. William Barber of the Poor Peoples' Campaign.
"We have a president who is coming, not only aware of what's going on, but because of what's going on," Oklahoma Democratic Party Chairwoman Alicia Andrews said moments before the president gave his address.
Oklahoma State Rep. Monroe Nichols
"Tulsa needs healing but the nation needs healing. And on top of that, his American Jobs Plan actually addresses the needs of Tulsa specifically. So, you ask me how I feel about that? I am thrilled," Andrews added. "I think it's more than just a photo op with the president, that we remember why he's coming here. And we need to make sure that he remembers why he's coming here.
Oklahoma state Rep. Monroe Nichols is the minority caucus vice chair and a member of the Oklahoma Legislative Black Caucus who resigned from the 1921 Tulsa Race Massacre Centennial Commission after it became apparent that the commission wasn't in line with the needs or demands of the Greenwood community.
"I hope our state legislature, which was successful in passing legislation that would really restrict us from exploring the history and the foundations of racism, I hope they understand why it's important for us to fully understand those things and the difference that they make in who we are today, and, more importantly, who we could be if we can move past it," Nichols told The Black Wall Street Times.
Oklahoma State Rep. Regina Goodwin
Noting the historic occasion when the nation finally recognizes the loss of life, livelihood and the need for repair, Oklahoma Senate Democratic Leader Kay Floyd added, "There's no going back, and it's about time."
Illustrating the significance of Biden's recognition that the Tulsa Race Massacre was one of the worst incidents of racial violence in the nation's history, Oklahoma state Rep. and descendant of massacre survivors Regina Goodwin, said it shows that he's human.
"We appreciate where we are but we have to get to reparation, we have to get to restitution. Beyond the commemoration, we need some commemor-action," Goodwin said.
Biden touts American Jobs Plan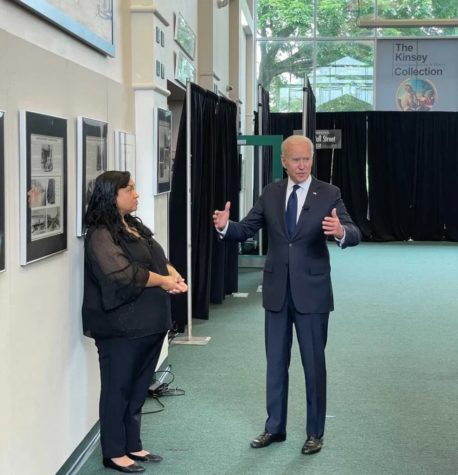 When asked whether she thinks Biden's visit will spark a change in conservatives and out-right racists in the Oklahoma Legislature, she said that's between them and God.
"We cannot legislate emotions. We cannot legislate morals. So, we'll just have to see.
"But we've gotta do what we gotta do. We can not give up. We have not given up in 100 years, and today is not the time where we would think differently," she added.
During his address, President Biden spoke about policy efforts within his American Jobs Plan that will directly boost opportunity for prosperity in Greenwood, such as expanding efforts to combat racist housing practices, setting aside more federal contract opportunities for minority-owned businesses, strengthening voting rights and investing substantially in Historically Black Colleges and Universities (HBCUs).
Congresswoman Cori Bush
He verbally envisioned a day when Greenwood will have better infrastructure, access to health care, clean water, clean air, and nearby grocery stores. "Does anyone doubt the nation will be better off with these investments?" President Biden asked.
Congresswomen Cori Bush (MO-1) and Sheila Jackson Lee (TX-18) were also in attendance and were adamant about the need to move past commemoration toward reparation and repair.
"He knows what's happening, which means there has to be action," Rep. Cori Bush told The Black Wall Street Times. "So, it's one thing that the information has gotten to our president. It's another thing when you know it's there, and he's speaking on it, which means he's more accountable."
The Black Wall Street Times is an independent, Black-owned and managed digital news media company located in Tulsa, Oklahoma, home of America's original and historic Black Wall St. District. In an age when media bias is a norm, The Black Wall Street Times continues writing narratives from the African American perspective.
For more reporting on the Tulsa Race Massacre by the Black Wall Street Times, visit https://theblackwallsttimes.com.