Amish in Iowa: Prayers over Ballots
KALONA, Iowa- Down a dirt road, golden corn fields lining either side, a man, who has a long beard, drives a rubberless tire tractor, the steel wheels screeching through the dirt. He plans to work all day, not thinking once about the presidential election, he is not even sure who is running.
The man, who asks to remain anonymous, is Amish. He says he has only seen Trump signs, was told people already voted and heard something about Trump making comments about women.
Although the Amish traditionally abstain from voting, some of them say they would prefer a man over a woman for president.
The Older Old Amish base their gender roles off of Biblical principles, believing women should follow the traditional role of a homemaker and caregiver.
Inside of Central Discount Grocery, Nelda Beachy stacks boxes of pastries. She prefers Trump over Clinton, since "women are supposed to be subjective to men."
"I don't feel like it's right for a lady to be president" she says.
Kyle Kopko, a political science professor at Elizabethtown College, who has conducted research on Amish values, says this belief is not startling. The college is located in Lancaster County about 60 miles west of Philadelphia and the home of the oldest Amish settlement in America.
"Based upon on their religious beliefs their social structure, that this isn't that surprising to be honest, because there are defined spheres of power and responsibility between men and women," said Kopko.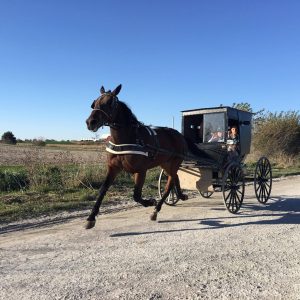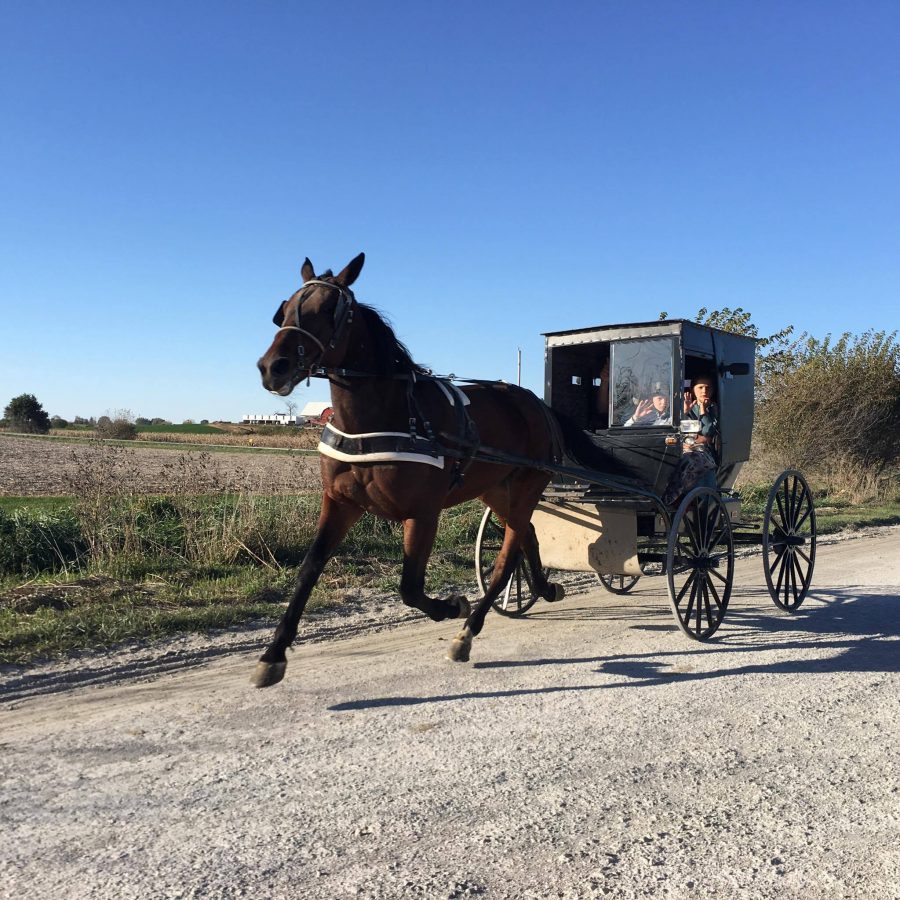 An Amish family ride their horse and buggy down a dirt road in Kalona, Iowa.
Some Amish in Ohio and Pennsylvania will reportedly defy religious teachings and vote but the Amish in the Hawkeye State say they plan to remain true to tradition and refrain.
An Amish woman, who asked to remain anonymous, puts price tags on boxes. She wears a dark blue dress, a starched white cap holds her hair together.
She questions the motives of the Amish who will be voting.
"If they take part in voting then what are they going to do when there's war," she says.
The pacifist group refuses to go to war. They are excused from military service.
But not all Amish, who generally refrain from giving their names to those they consider to be outsiders, prefer Trump over Clinton.
Less than a mile away from Central Discount Grocery, inside the Stringtown Grocery Store, an older man with a gray beard and fine wrinkles, recounted the first time he saw Donald Trump.
"I was in a train station, Trump came on the television. I wasn't impressed, his characteristics are not presidential, I don't know why anyone would see him in the White House. Trump makes Hillary look awfully good," he said.
Though his father voted in 1960 for Nixon, at 68 years old, he says he will never vote. Despite not having electricity, he does keep up with the news.
"We do see things, we do see what's going on. We pray for our government," he said.
Another religious group in the area are a group known as Beachy. Known to be a mix of Old Older Amish and conservative Mennonite, Beachy's adhere to traditional Amish beliefs–like not voting and clothing styles, but use electricity and drive vehicles.
A 21-year-old Beachy says her community will not be voting, but does support Trump over Clinton because of his view on abortion.
"I don't want to see a woman go in. Men should be in leadership positions," she said.
Like any voters, for these communities conservative issues are a determining factor.
"Social conservative issues are of greatest concern to folks within the Amish community so that would also include same sex marriage but that has obviously already been decided by the Supreme Court. But abortion is something that is very important to them because of their religious beliefs. They do believe the practice is equivalent to murder," said Kopko.
For the Amish in the Buckeye State and Keystone State, this maybe their first time voting. But for those in Iowa, it will take a pivotal issue to garner change and drive the Amish to the polls.
"It would have to take a little more than it just being a female president of the United States. It would have to also include some sort of threat to their way of life. If their religious liberties were to be threatened in some way and think that would be the key factor. That would help mobilize them," said Kopko.
Regardless of the outcome, the Amish say they will continue praying for the government, hoping to bring justice, peace and tranquility to the plains of central Iowa. For the Amish, their kingdom is in heaven.
[mappress mapid="2″]