For the Arthurian Order of Avalon, the Norman Medieval Fair isn't just about sword fighting and playing medieval dress up. It's an opportunity to educate about the past to help understand the future.
The Medieval Fair of Norman is a renaissance fair that has been held annually since 1977. This year, hundreds of groups and organizations took part in the event, including the Arthurian Order of Avalon.
The Arthurian Order of Avalon (AOA) is a non-profit educational organization that was conceived more than 30 years ago. As well as performing a choreographed skit including a dramatic series of sw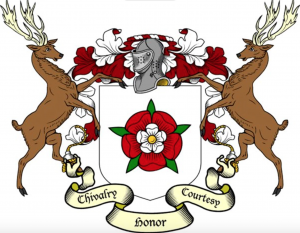 ord fighting duals, the AOA provides a variety of educational displays and demonstrations through their education tent at the fair. The primary mission of the AOA is to educate its members and the general public about medieval culture and history.
Finlea Baxter, a senior communications major at the University of Oklahoma, has been a part of the AOA for nearly 3 years.
"Educating people about what is was like to live in medieval times is one of our main goals. We teach people about medieval warfare, the types of armor and weapons that were used in battle, how fabrics were made, embroidering…the list goes on" Baxter said. "It's a fascinating time of history that many people don't have the opportunity to learn about" she said.
For Rebecca Horner, an AOA member since 2009, the AOA provides an opportunity to "geek out" and explore her passion for learning and teaching about medieval history.
Horner believes that studying medieval history can help people learn how the past is reflected in what we see in today's world, and that understanding the present ultimately requires an understanding of the past.
"Those who don't know their history are doomed to repeat it" Horner said.
For more information about the Arthurian Order of Avalon visit, https://medievalfair.org/media/filer_public/c6/b1/c6b1804c-20a1-4da7-991b-1a0d6b463669/2016normanartscouncilbashflyer.pdf