An aroma of meats cooking and Middle Eastern pastries baking filled the air in the small takeout restaurant wedged between Sonic and 7-Eleven.
Sisters Mediterranean Taste, located on the intersection of Chautauqua Avenue and Imhoff Road, is owned by sisters who are Lebanese immigrants.
"When first moving to the United States, I was talking to my sister Renée about getting a job. I could not find any, so we decided why not open up a restaurant together," Co-owner Silvie Andraos said.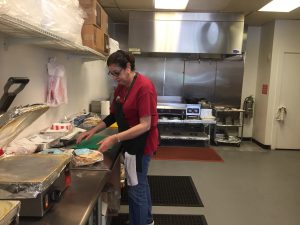 Andraos said she and Renée began to realize how important it was to maintain and share a piece of their culture after moving from Beirut, Lebanon. It took Andraos eight years to obtain her green card until she could finally join her mom and sister in America.
After moving to Oklahoma and opening Sisters, Andraos said the restaurant attracted all sorts of customers with its Middle Eastern flavor and unique grab-and-go style.
"I've been a customer for years, and they know my order by heart. The fresh foods and ingredients are what keeps me coming back," OU student and customer Moira O'Neill said.
It was difficult getting the restaurant started, Andraos said, but the sisters were able to work together and adapt to living in a different country, which led them to open up their very own business right here in Norman.