Students living off campus refrain from buying meal plans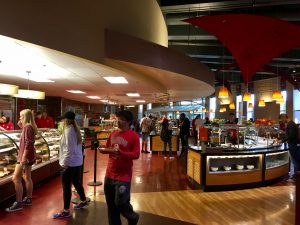 On campus residents at the University of Oklahoma enjoy the luxuries of a meal plan, while students living off campus choose to stay away from the cafeteria.
"For the amount of food that's offered, it's plenty and definitely worth the price," said Alix Yaw, a senior living in the residential colleges.
"It's very much more like a fine dining type cafeteria, which is not really what I expected," said Yaw.
Regardless of which cafeteria on campus residents eat at, it is in agreement that overall students wouldn't change their meal plan.
"I'm getting my money's worth by just swiping once. You're getting a lot more food than just what you're paying for," said Ashlee Webster, a freshman resident at Headington Hall.
Despite the popularity of the cafeteria among students living on campus, the response is much different from those like senior Rachel Christopher who is living off campus.
"I don't have a meal plan because they're expensive and it's easier for me to just eat at home instead of having to come to campus for all of my meals. Plus I'm not a big fan of the food at the caf."
Food at the various cafeterias on campus are known to have low quality, unhealthy food options. Memories of eating this kind of food freshman year keeps junior Grace Scorsone from buying a meal plan.
"Freshman 15 is real, and it's because of the caf. There's really no healthy options and if there ever are, they're low quality and mush," said Scorsone.
"Now that I have my own kitchen, it's so nice being able to cook the good, healthy foods I want. I don't know any upperclassmen who have meal plans. Everyone got so tired of the same old, gross food," she said.