Clothing store fits all sizes.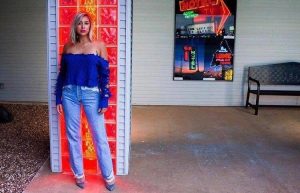 An Oklahoma fashion designer has been empowering women and improving their body image by creating specially-designed clothes.
Jobeth Solis has opened The Joraffe, a clothing store in Clinton, Oklahoma.
Solis came up with the name Joraffe from one of her friends, who used it as her nickname. For Solis, her Joraffe brand has been a way for her to dictate her own rules and have creative freedom.
The Joraffe sells vintage denim pieces that are modified and revamped by Solis. Each piece is designed per the client's request for sizing, but she makes them creatively unique, such as by dyeing them or adding tears.
Solis said she has faced more struggles in the business world as a young female entrepreneur than due to her Hispanic ethnicity.
"Being Hispanic won't stop me," said Solis. "It feels like, because I am a woman, it can be harder to be taken seriously."
Solis has been hoping the acceptance ideals of her brand will attract more clients and open up access unique pieces.
"When you don't have a regular shape like me, you sometimes feel like you can't fit," said Emma Gronroos, who has shopped at The Joraffe. "It feels nice to be able to have clothes designed just for you."