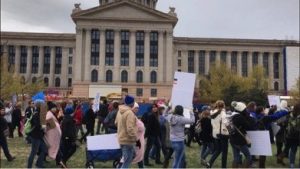 College students studying education from across Oklahoma joined with teachers in a walkout on the front lawn of the state capitol on Monday.
Students from Oklahoma City University met at noon during the walkout to stand together in support of education funding.
"If we are educating all of these teacher candidates, and half of them are going to teach somewhere else, we are losing the opportunity for them to educate our own children, and we are doing other states a service," said Kimberly Littrell, coordinator of the Student Oklahoma Education Association.
Oklahoma City native and OCU student teacher Erin Epperly attended the walkout in hopes of changing legislative attitudes toward additional funding.
"What motivated me to come out today was the fact that the funding crisis with teacher salary, support staff, state staff and also school funding is directly related to my future," Epperly said.
"If there isn't an increase in funding, if there isn't an increase in teacher pay, I'm not going to be able to afford to stay here."
Epperly said she has always dreamed of teaching, and the state of education is threatening her job plans.
"I don't know what I would do other than educate, so I've thought about running for office and taking the jobs of the people who are in the House right now and doing what I can to help education," Epperly said.
Both Littrell and Epperly are hoping that the teacher walkout will persuade legislators to act quickly, but they know that change can take time.
"I don't know if it will be tomorrow, or the next day, or the next day, but I think that legislators in this building need to walk all four corners and look out at the masses and see the movement that is happening," Littrell said.