A taste of compassion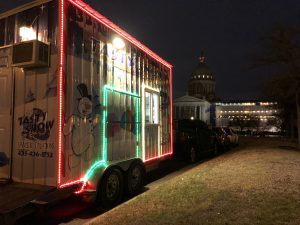 In the early-morning darkness surrounding the Oklahoma State Capitol, the only lights visible are streetlights, blinking lights on circling helicopters, and a shack covered in painted-on icicles and snowmen. Flashing green, red, and blue lights illuminate the darkened parking lot, filled from curb to curb.
The shack is called Tasty Snow Shaved Ice Creations. They arrived at the Capitol to give away free coffee, hot cocoa and snacks to the marchers for Oklahoma public schools.
Owned by David Massey and Candice Edwards, the food truck received permission from the Capitol to participate in the movement by serving free food and hot beverages. News station workers and early arrivers to the march walk by the shack bundled in their heaviest coats. The 35 degree weather does not stop them; the lights and free coffee does.
Massey believes that he was called to do this out of solidarity for those who want change in the state.
"We want to be able to give anyone a chance to be out here, be comfortable, and make a change that has been needed for about 10 years," Massey said. "It's not just affecting the teachers; it's affecting everyone who works in the schools and it's not allowing our children to be successful."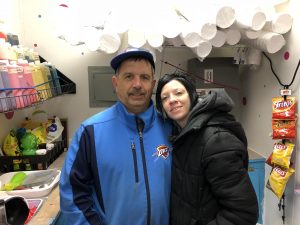 Sam Tiller, a nine-year-old boy, holds his mother's hand while marching to the capital. A scarf covers his mouth but there is grin which hides behind the cloth.
"I just got a Snickers, and now I'm ready to help," Tiller said. "I'm happy to be here, and I want to do something like everyone else."
While Edwards continued to set out cups for the upcoming day, protestors with picket signs passed the shack. Each was greeted with a small to-go cup of hot cocoa and a smile.
Massey has seen the effect of a teacher's pay within his family. Two of his children are educators, and Massey said that it has been hard as a parent to see his children struggle to follow their dream of teaching others.
"We are all for change, but $6,000 increase is a Band-Aid on bullet hole," Massey said while setting up the generator for the Tasty Snow Shack. "My daughter teaches at Eugene Fields, and my son teaches at Mid-Del schools. Everything they have done for their students, they have done by themselves. They have no politicians to thank for that."
Last week, the Oklahoma legislature signed a $6,100 pay increase for the state's public school teachers. This pay increase did not affect other education professionals, such as custodial staff, lunch-care professionals, electricians or maintenance. Since this increase, the Oklahoma Education Association has called for $10,000 pay raises over the next 3 years and $5,000 pay raises for full-time support professionals. This demand has yet to be challenged or acknowledged by lawmakers.
"These teachers can't take it anymore," Candice Edwards said. "They haven't seen a pay increase in the past 10 years, and yet they want to ask why they're marching?"
"Maybe they're coming to say thank you to Mary Fallin," said Massey with a bitter-sweet grin. They continue to serve the small crowd of 11 people who had formed at the front of the stand.
Savannah Melher, an Oklahoma City Community College student editor for the Pioneer, approaches the stand. Her numb fingers barely grip the Styrofoam cup filled with hot cocoa.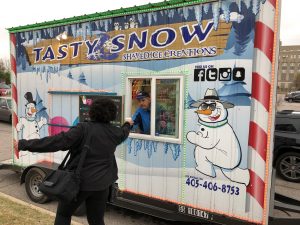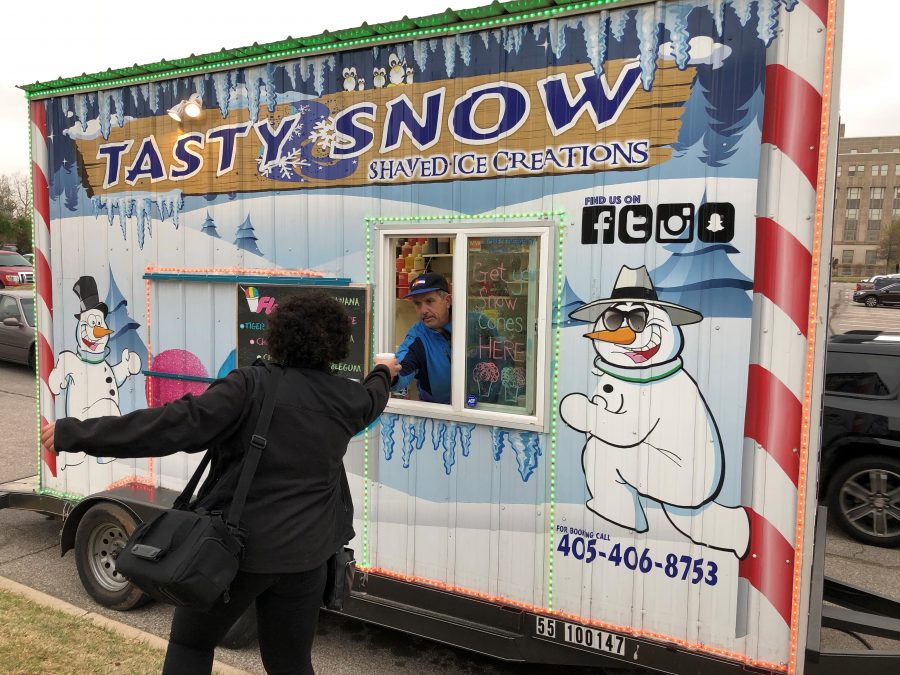 "When you're marching and reporting like everyone here is, it's good to stop and take a breath," Melher said. "This isn't going to be over soon and we need to be prepared for the longrun."
With a large stock of with, coffee and hot chocolate, Massey and Edwards are prepared to help as long as they can. The Oklahoma City Life Church has also been supporting the Tasty Snow's efforts. The church community will be volunteering to help Massey and Edwards while they serve the public.
"The church community pulled through and was able to help those who want to help themselves," Massey said. "We want what's best for Oklahoma, and we're willing to do what it takes to help; even if it's just by selling hot drinks to those who are cold."
Massey and Edwards encouraged everyone to stop by Tasty Snow whenever someone is thirsty or hungry so they can get back to marching quickly.
Tasty Snow plans to be at the Capital serving drinks and food for free for as long as the Oklahoma teacher walkout continues.