SRT Overcomes Obstacles at Texas Autocross Weekend
Sean McLain, electrical engineering sophomore, drives the Sooner Racing Team's car, "Stella", on Saturday, Sept. 29, 2018 at Texas Autocross Weekend in Arlington. The SRT was one of 20 teams that attended the informal race.
The Sooner Racing Team faced unexpected hardships throughout their first trip to the annual Texas Autocross Weekend with 2018 car, "Stella", from Sept. 28-30, hosted by the University of Texas at Arlington.
Within hours of the rubber hitting the road on Saturday, the SRT was confronted with faulty engine air intake and a deteriorating steering wheel. The team recovered quickly using JB Weld epoxy putty to re-seal both the intake and the steering wheel. Unfortunately, a few minutes before the track closed, one of the components attached to the shifting mechanism on the engine stripped out, and was unable to provide enough grip to change gears on the car, said Sean McLain, electrical engineering sophomore. They were unable to finish the race on Sunday.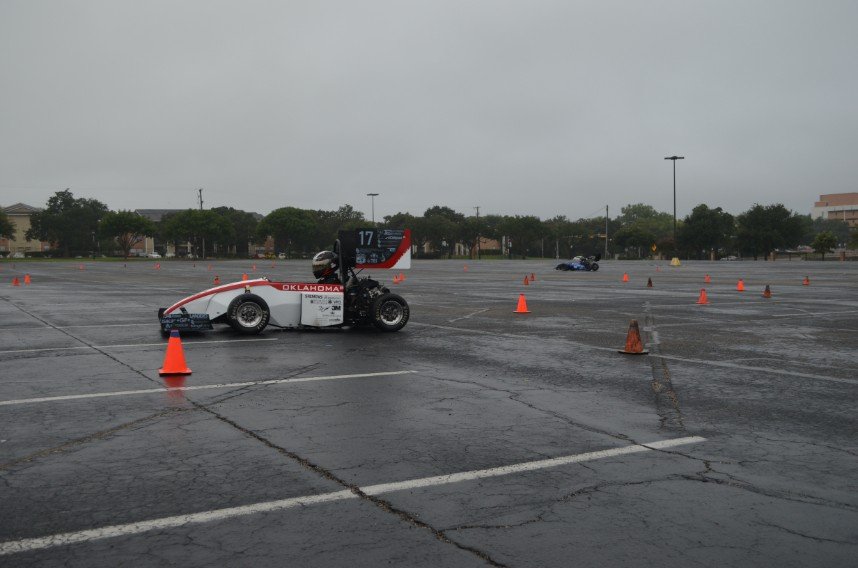 "FSAE cars typically have issues pop up all the time since they are designed and manufactured in such a compressed timeframe," said Ryan Cowdrey, team captain. "Things break fairly often, and it's always important for us to fix the underlying issues, rather than just masking the problems."
Despite set-backs, the team walked away hopeful for their future at the annual competition in Lincoln, Nebraska next summer.
"We're hoping from this event we can build a stronger and more reliable car this year, and hopefully take home a trophy," said McLain.