Disaster relief bill signed into law
Washington – With the support of Oklahoma's congressional delegation, a much-delayed $19.1-billion disaster relief bill finally won final congressional approval and was signed into law by President Trump.

H.R. 2157 provides funding through agencies ranging from the U.S. Department of Agriculture and the Army Corps of Engineers to the Forest Service to help local communities and individuals recover from natural disasters dating back three years.

Those disasters include flooding, tornadoes, hurricanes, wildfires, earthquakes and even volcanoes.

"Oklahoma is no stranger to natural disasters. From recent floods to wildfires, Oklahomans have experienced their fair share of heartache," Rep. Frank Lucas (R-OK3) said.

"While the Department of Homeland Security and FEMA are still addressing the impacts of Oklahoma's recent flooding and evaluating what assistance is needed, I and the entire delegation will continue to work tirelessly with federal and state officials to provide
whatever aid the people of Oklahoma are in need of."

Rep. Tom Cole (R-OK4) spoke of the months-long delays faced by the bill, saying communities have waited too long for relief.

First proposed months ago, the disaster bill has been delayed largely by a partisan disagreement over how much additional funding should be going to Puerto Rico, which is still recovering from a 2017 hurricane.

"There is still a long road ahead for recovery efforts and rebuilding damaged infrastructure, but passage of this aid package marks a vital step forward," Cole said.

Final congressional approval of the bill came from the House where Democratic earlier plans to fast-track it to Trump were upended by Republican members who objected to unanimous consent requests partly out of concern that such a large spending bill required a recorded vote of all members.

Rep. Kendra Horn (D-OK5) took issue with those objections. "Mother Nature doesn't discriminate by party, and we shouldn't either," Horn said.

With final passage never in doubt, the bill was forwarded onto Trump by a 354-58 vote with Lucas, Cole, Horn, Reps. Kevin Hern (R-OK1) and Markwayne Mullin (R-OK2) in support.

While current flooding or tornado relief isn't included in the legislation, it provides funds for previous disasters over the past three years in different parts of the state.

Oklahoma's two U.S. senators, Republicans Jim Inhofe and James Lankford, days earlier voted for the bill when it passed the Senate by a 85-8 vote.

Dream Act changes sent to Senate

In other action, the House voted 237 to 187 to pass H.R. 6, the Dream and Promise Act, to provide a pathway to citizenship for so-called Dreamers, those brought to the U.S. as children by their parents, as well as other non-citizens who remain in the country under temporary Authorization.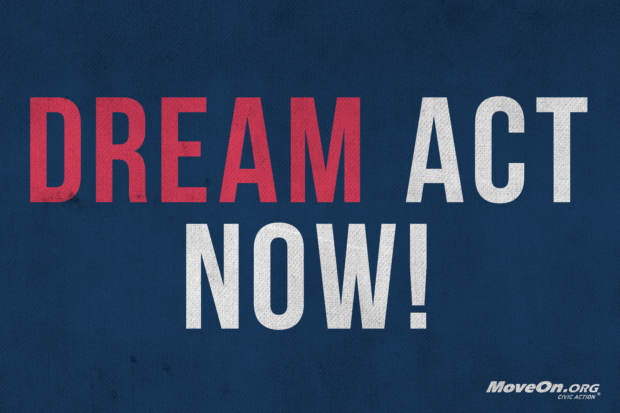 Supporters of the bill spoke of the positive contributions those covered by the legislation make to the U.S.

"It makes no moral, cultural, or economic sense to remove these proud Americans from the land they love," Rep. Lucille Roybal-Allard (D-Calif.40) said.

Horn voted for the bill; Cole and Lucas voted against it; and Kern and Mullin did not vote.

Lucas said the Democrats' bill would only exacerbate the problems of a broken immigration system.

He cited his previous support for providing a solution for those brought to the U.S. as children along with a comprehensive visa reform and necessary measures to secure the border.

Cole blamed both Republicans and Democrats for failing to step up and provide a solution to such issues.

"As lawmakers, we had ample opportunity to come up with an appropriate legislative solution, and we did not do so," he said, adding that once again lawmakers are missing out on yet another opportunity for a bipartisan solution.

Hern was in Oklahoma touring flood damage with Vice President Mike Pence on the day of the vote.

"I don't want to make a habit out of missing votes, but the crisis in the First District and the arrival of Vice President Mike Pence are both rare occasions," he said.

Had he been present, Hern said he would have voted against H.R. 6 because it fails to address the "humanitarian crisis" on the border with Mexico and ignores the problem of illegal immigration.

"There are great dangers involved in granting amnesty to millions of people living in our country illegally, including known criminals," Hern said.

"I will never support those who violate our laws at the expense of those who follow them, plain and simple."

House overwhelmingly supports needy family assistance

On another bill that attracted bipartisan support, the House voted 357 to 55 to approve H.R. 2940 and extend Temporary Assistance for Needy Families block grants to states through Sept. 30.

Without the short-term extension, funding for the program would expire on June 30.

The National Governors Association urged support for the bill, warning of the impacts a lack of funding would have on services critical for those covered by the program.

Even members who voted for the short-term extension expressed disappointment at what they described as the House leadership's failure to discuss reforming the program.

They focused their comments on efforts to help participants find and keep jobs. Lucas, Cole and Horn voted for the bill; Hern and Mullin voted against it.

Social Security commissioner confirmed

On the other side of the Capitol, the Senate again used floor time to advance more of Trump's nominations.
Senators voted 77 to 16 on confirming Andrew Saul of New York as commissioner of Social Security.

Both Inhofe and Lankford voted for confirmation.

Action in both chambers was cut short as several members of Congress traveled to France to mark the 75th anniversary of the D-Day invasion of allied forces during World War II, which is considered one of the most important military actions in history.

Lankford was among those who made the trip.

"I am humbled to share this moment at the Normandy Beaches to honor the 75th anniversary of D-Day and the heroes who took the world on their shoulders and faced almost certain death when they courageously charged these shores to bring freedom," he said.