Journalists recount summer of pandemic, protests for podcast panel
NORMAN, Oklahoma — For an episode of the Gaylord News podcast "Survive & Thrive," three Oklahoma journalists gathered for a panel to discuss hardships in public and private life brought about by the pandemic of the past year.
Mike Boettcher, M. Scott Carter and Storme Jones spoke with Gaylord News reporters KaraLee Langford and Brooklyn Wayland about the struggles of adjusting to immense lifestyle changes and personal health precautions after coranvirus-related restrictions began in March 2020.
"Two of my family members got COVID-19 and got incredibly sick," said Carter, a sixth-generation Oklahoman who has worked as an investigative journalist for 43 years, often covering the state legislature. "We thought my brother was going to die there for a while, and navigating that was really difficult, because there's not a lot you can do from a distance."
Even before the pandemic took hold in the state, Oklahoma was no stranger to tragedy. The state's history is checkered with traumatic events such as the Trail of Tears, the Tulsa Race Massacre, the Dust Bowl, and the Oklahoma City bombing.
Boettcher and Carter said there was an unwillingness by Oklahoma in the past to publicly reckon with many of these tragedies.
"I grew up in a part of the state that was really hit hard by the [1930s] Dust Bowl," said Boettcher, a Ponca City native and former war correspondent for CNN. "North-central Oklahoma, Northwestern Oklahoma — that was tough, there's a lot of farming going on up there, and it was totally a disaster for people particularly in that part of the state. My mother and father lived through it."
John Steinbeck's classic novel "The Grapes of Wrath" in 1939 dramatized the plight of Oklahoma tenant farmers who attempt to escape the economic hardship of the Dust Bowl by traveling to California, and both the novel and its 1940 Henry Fonda-starring film adaptation endure in the public consciousness as historic representations of Oklahoma.
Ever since, however, "I think Oklahoma's suffered from an inferiority complex," Boettcher said, as the state has tried to reframe the pejorative image of "the Okie" as poverty-stricken "refugees inside the United States" and instead shift the word toward a source of state pride and perseverance. "And I think a lot of Oklahoma's character is built around trying to show that we can do anything anybody else can."
Carter agreed that the Dust Bowl "left an indelible mark" on the state, but also said that the impact of that event on Oklahomans is complicated because "they don't like to talk about it."
"When I was a kid, they didn't teach the Dust Bowl in high school," Carter said. "They didn't want to talk about 'The Grapes of Wrath.' You could not find Steinbeck in my school library. […] I think that's the other side of that. We're resilient and we're strong and there are times we really rise to the occasion, but we don't want to talk about it."
After the Oklahoma City bombing in 1995 — which killed at least 168 people and is still considered the deadliest act of domestic terrorism in United States history — statewide acts of kindness, service, and honor were encouraged as the new "Oklahoma Standard" of resiliency and solidarity.
Since then, the Oklahoma Standard has been evoked as a call for unity within the state whenever a crisis arises, even as recently as summer of 2020, when protests against police brutality and racial injustice surged at the same time as COVID-19 infections and deaths.
Jones, who had graduated from the University of Oklahoma Gaylord College of Journalism and Mass Communication in 2019, was assigned by KWTV – News 9 to cover the protests in downtown Oklahoma City during late May and early June 2020.
"That wasn't something we could cover via Zoom," Jones said. "And it's been interesting to look back where we just passed the year mark for this [pandemic] being in Oklahoma and this being in the country. So that's been half of my professional career — has been during COVID-19. It's crazy for sure: just the instant shock of kicking everyone out of the [News 9] building, figuring out how to work from home and doing Zoom interviews and stuff like that. It was just kind of a learning curve for everyone."
"It's been interesting navigating those things and just weighing the risks versus the assignment, the job," Jones said. "We've got to go out into the community and we've got to do these types of stories."
Boettcher said that his time as a correspondent in war-torn regions overseas had mentally prepared him for the economic and political hardships in the wake of COVID-19.
"One of the things that helped me is, throughout my career I would go into places where basically civilization was falling apart," Boettcher said. "It scared me about my own country. What was going to happen? Was the economy going to bottom out for years? And in the midst of it, you had political crises. It's stuff I'd seen in countries that were unraveling, and now you kind of felt like your own country was unraveling."
"Survive & Thrive" is a weekly 24-episode podcast series in which Langford and Wayland interview Oklahomans from all walks of life on how to cope with the COVID-19 pandemic and recent racial upheaval.
The nineteenth episode of the program, the first installment of a two-parter featuring Boettcher, Carter and Jones, is available below and on other streaming platforms such as Spotify and Apple Podcasts. The second part of this panel discussion will premiere March 31.

Gaylord News reporters Miranda Vondale Foster, Jessie Christopher Smith and Zhixuan Fan contributed to this report.
Gaylord News is a reporting project of the University of Oklahoma Gaylord College of Journalism and Mass Communication.
About the Writers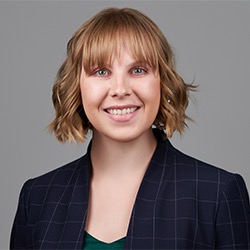 KaraLee Langford
is a Gaylord journalism student at the University of Oklahoma. She completed her associate's degree in journalism at Oklahoma City Community College (OCCC). There, she began her journalism career as a writer for the OCCC student newspaper, the Pioneer. Eventually, she worked her way up to become editor of the Pioneer her senior year. While editor, her team won first place for the best newspaper at the Society of Professional Journalism awards for a 20-page issue called "The Female Experience." After graduating from OCCC, KaraLee transferred to OU and spent three months in Washington D.C. writing and reporting for Oklahoma media outlets. While in D.C. she hosted a podcast about what happens behind the scenes of the Nations Capitol and how journalists develop stories. KaraLee enjoys the fast-paced life of a journalist and prefers writing and reporting in-depth and investigative stories.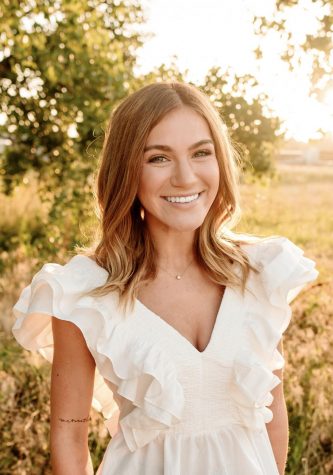 Brooklyn Wayland
is a reporter currently attending the University of Oklahoma where she studies journalism and political science. She now is the creator, producer and co-host of the "Survive & Thrive" and "America's Cross-Roads" podcast series. Most recently, she was a politics fellow at HuffPost. Previously, she worked as an intern for a regional newspaper, The Shawnee News Star. In the spring of 2020, she was awarded a fellowship in Washington D.C. with Gaylord News where she covered the hill, political campaigns, tribal affairs and regional reporting for Oklahoma. While in D.C., Brooklyn also co-hosted a podcast series about reporting behind the scenes of the Nation's Capital. Also with Gaylord News, she had the opportunity to work on a project telling the personal stories of Native Americans and their exile to Indian Country.