Two decades later, 9/11 Oklahoma victim's wife recalls their life before tragedy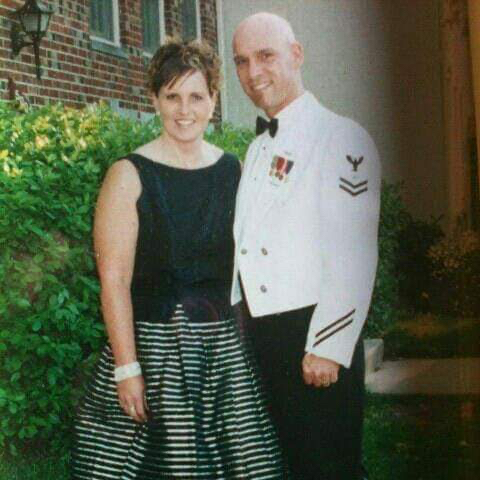 WASHINGTON — "He had big brown eyes, and there was never a day I ever saw him go to work looking like he was in disarray. I mean, everybody loved him, and they gravitated toward him; he just had one of those personalities that got along with everybody."
That was Mary Lou Moss' response when I asked her what captivated her about her late husband, Electronics Technician 2nd Class Brian Moss. Saturday will be 20 years since she last spoke with him before tragedy changed their lives forever.
Brian Moss was born in Sperry, Okla., a small town located in Tulsa County. He graduated from Sperry High School and did a short stint at Northeastern Oklahoma A&M College in Miami, Okla., but didn't graduate.
After his short college career, he joined the Navy in 1990 and went to radioman school in California right out of boot camp. Then he was stationed in Adak, Ala., where he met Navy active-duty officer Mary Lou Moss, a native from Ohio who would become his wife.
"In Adak, you had to live in the barracks unless you had family. If you had family, you could go out into town, which they call a town, but it was still all military run. So he and I lived in the same barracks; we worked for the same command. I mean, it was a small island; everybody knew everybody," said Mary Lou.
Brian's grandma was sick with cancer, so he and Mary Lou decided to marry before she passed away. They married in Ohio in December 1992 and then went to Tulsa to meet his family before returning to their command.
Their daughter Ashton was born in 1994, and their son Connor in 1996.
After living in Alaska, the Mosses moved to Connecticut, Georgia, Washington state, and Washington, D.C. in 1998. In Washington state, Brian did his first submarine tour on the USS Alabama on the Blue Crew, and in Washington D.C., he was a ceremonial guard.
When Brian completed his tour as a ceremonial guard, he applied for White House communication to further his military career. However, he was rejected and ended up working for the Chief of Naval Operations at the Pentagon on Aug. 15, 2001.
His wife was working in weapons of mass destruction assessment and analysis at the Defense Threat Reduction Agency in Alexandria, Va., at the time.
When I asked Mary Lou what the best command they lived in was, she said Washington D.C.
"In D.C., we had lots of friends, and there was so much to do there. Washington State was a little hard, only for the fact that he was on a submarine. So he was gone for three months and would be home for three months," Mary Lou Moss said.
"But in D.C., he was home every night, and it was nice for the kids because he could interact with them and go to the school events. He didn't miss anything like that."
According to his family, Brian Moss was "a guy that liked a bargain." Every Saturday, he would wake up and drive around with his kids in his red Jeep Wrangler, looking for garage sales to find the best deals, and gather random knick-knacks.
His favorite snacks were vanilla ice cream with Hershey's syrup on top and Dr. Pepper.
"Brian was an amazing person, and I miss him every day," said Mary Lou Moss, who never remarried.
Gaylord News is a Washington-based reporting project of the University of Oklahoma Gaylord College of Journalism and Mass Communication.