Native American storytelling cemented with N. Scott Momaday ceremony
The importance of Native American storytelling was cemented on Thursday when Oklahoma's preeminent history museum dedicated a Legacy Stone in honor of Pulitzer Prize-winning Kiowa author N. Scott Momaday.
Momaday, 89, who was the first Indigenous person to receive the Pulitzer Prize in 1969 for his book "House Made of Dawn," is known for other works such as "The Way to Rainy Mountain," and is credited as the founder for the Native American Renaissance in literature. Many of his notable works are comprised of a common element—cultural tradition.
"He's someone who has a deep understanding of heritage and what it means to be a First American in our modern day," Chickasaw Nation Governor Bill Anoatubby said during the Oklahoma History Center ceremony. "(He has) a unique insight and creative spirit that sets him apart from other storytellers. That's something we have in our heritage, right? We're storytellers."
This element of tradition was reflected in the dedication ceremony, with the Kiowa Flag Song being performed by the Kiowa Black Leggings Color Guard, and a Kiowa prayer from elder and language mentor Delores Harragarra.
Momaday's daughter, filmmaker Jill Momaday, stood in for her father who was unable to attend due to health reasons and was gifted a shawl and blanket in his honor from the Black Leggings.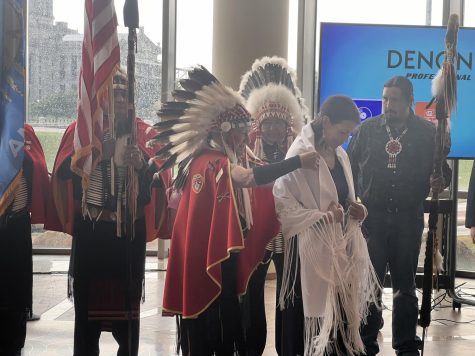 "I'm so proud of my dad and the legacy that he has built," Jill Momaday said, affirming her father's belief in the importance of preserving tradition.
"His grandparents and his parents told him stories from the beginning of time, and he thought that the oral tradition of these stories were one of the most important things and that if he didn't write them down, that they would be lost forever," she said. "And so that is what he did."
The Legacy Stone, which sits adjacent to one dedicated to the owners of Rainy Mountain Ranch which covers prominent tribal landmark Rainy Mountain located in Mountain View, Oklahoma, 100 miles southwest of Oklahoma City, can be found near the entrance to the Oklahoma History Center.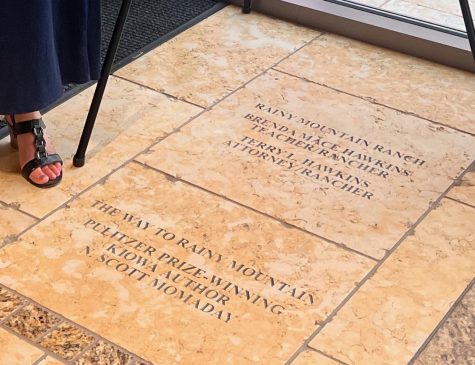 According to Kiowa Chairman Lawrence Spottingbird, its significance to the tribe is priceless.
"The Kiowa tribe, we're really proud of (Momaday) and what he's accomplished in his life," he said. "This event is really a historic event that I can see for our tribe."
Momaday is also the recipient of an Academy of American Poets Prize, the National Medal of Arts, the Ken Burns American Heritage Prize, the Dayton Literary Peace Prize Foundation's Richard C. Holbrooke Distinguished Achievement Award and the 2021 Frost Medal for Distinguished Lifetime Achievement from the Poetry Society of America.
He also served as a professor for numerous higher education institutions after earning his PhD from Stanford University. Currently serving as a Regent Professor at the University of Arizona, he now lives in New Mexico where he continues to write.
Katie Hallum is a member of the Cherokee Nation and a reporter and host of 'Here and Now' on KGOU-FM.  Gaylord News is a reporting project of the University of Oklahoma Gaylord College of Journalism and Mass Communication.  For more stories by Gaylord News go to GaylordNews.net.