WASHINGTON — Twenty-two days after former Speaker Rep. Kevin McCarthy's historic ouster, Republicans unanimously voted Wednesday to elect Rep. Mike Johnson as the 56th speaker of the house, ending the tumultuous in-house fighting and chaos that had paralyzed the chamber for weeks on end. 
But as the dust settles, many are left wondering what happened behind the closed-door meetings that brought the contentious speaker battle to a close, and how to repair what was broken in the process.
"This is about getting the house back open… So we could get back working on great policies at a time when the world needs to see leaders," said Rep. Kevin Hern (R, Tulsa), who was one of more than ten Republicans to compete for the key role over the course of this speaker's race.
"I wanted to be that person, (but) sometimes being a leader is taking a different path."
The Tulsa representative and McDonalds business titan put Oklahoma on the map these past few weeks as the first Oklahoman since Rep. Carl Albert (D, OK) to make a grab for the gavel.
However, despite entering and reentering the race three times, Hern said becoming speaker, a position second in line for the presidency, was not something on his radar.  
"It was never on my bucket list," said Hern, who is chairman of the Republican Study Committee, which has historically been a launching point to higher leadership positions. "There's nobody in America that thought there'd be a speaker position open nine months (after) being in the majority."
After initially removing his name from the ballot because he believed a three-person race would only fuel party division, Hern jumped back in on Oct. 20, 17 days after McCarthy was ousted.
He rode steady through four rounds of the secret votes Tuesday evening, but was dropped from the race after tying with Rep. Byron Donalds (R, FL) for third place at 25 votes each. House Majority Whip Rep. Tom Emmer (R, MN) eventually emerged the victor of the first candidate forum that evening, but a roll-call vote revealed 28 Republicans were still against him — 24 more than he could afford to lose on the floor.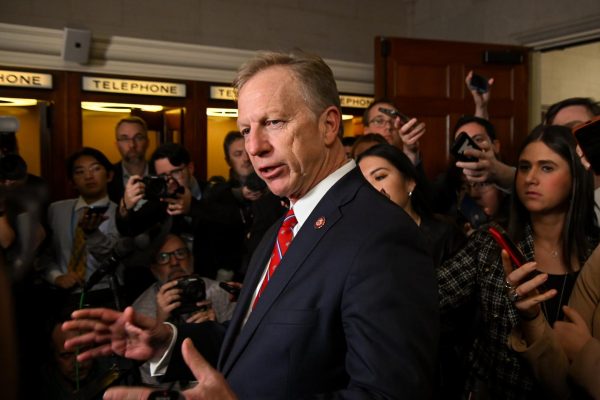 During a break after the private vote, Hern and Rep. Matt Gaetz (R, FL) teamed up with Emmer to create a list of items that could help to satisfy some of the 28 holdouts. 
"We were sitting there and got the list pretty much well thought out and written down…when the tweet came out from (former) President Trump that Tom Emmer was a RINO (Republican in name only)," Hern said. "At that moment, the campaign for Tom Emmer for Speaker of the House was over."
Already facing resistance from some of the more conservative conference members, Trump's rebuke was the final nail in the coffin for Emmer, forcing the moderate republican to drop from the race. 
Hern, along with five others, then reentered the race for the second candidate forum that evening, but he dropped out soon after to lend his support to Rep. Mike Johnson (R, LA).
A little-known social conservative from Louisiana, Johnson — with the help of an endorsement from Trump —  quickly flew through the ranks, becoming his party's fourth speaker nominee. Johnson, who was the vice chairman of the House Republican Conference, is a close ally of Trump and defended the former president during the impeachment hearings, as well as contested the results of the 2020 election.
It was a surprising end to a chaotic day, and the stress of the speaker's race could be seen clearly on the politicians' faces as they stood behind Johnson during a press conference after the private vote. 
But, with about 19 members missing during the roll-call that evening, it remained unclear if Johnson would get to 217 on the floor. Hern said he, along with two other members, spoke with the 19 to make sure any issues were addressed before the vote reached the full chamber. 
The following day, Johnson won the gavel by a vote of 220 to 209 for the Democratic nominee Rep. Hakeem Jeffries (D, NY) — earning every Republican vote for the first time since Rep. John Boehner (R, Ohio) in 2011. 
Still, many wondered how the Party was finally able to come to a consensus after weeks of private meetings and secret votes seemed to only divide the Republican conference further. 
"There's a couple of things going on," said Michael Crespin, director of the Carl Albert Congressional Research and Studies Center and professor of political science at the University of Oklahoma. "One is just fatigue. This was going on for a long time…The other part is Johnson doesn't really have any enemies."
Crespin added that because Johnson hasn't been involved in a lot of leadership decisions or implementation in the past, there isn't a lack of trust there that other candidates, such as Rep. Steve Scalise (R-LA) or Rep. Jim Jordan (R-Ohio), had. 
"Johnson is gonna have to earn some trust," Crespin said. "He's probably at neutral, whereas the other candidates were probably at either negative on trust or negative on not being conservative enough."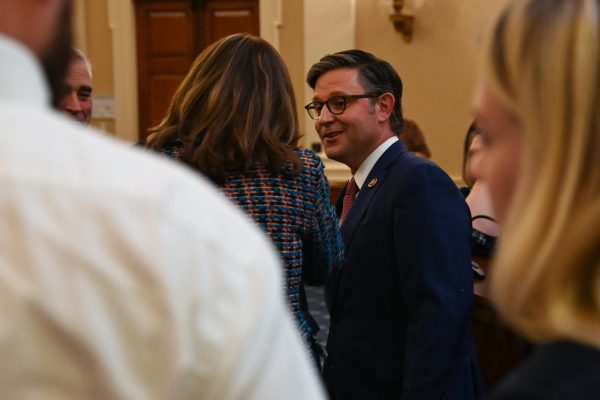 While both Crespin and Oklahoma Representative Tom Cole (R, Moore) mentioned the influence Trump's endorsements had on the election, the race ultimately came to a close after Republicans compromised on a candidate with a relatively clean slate.
"People put considerable stock in what (Trump) has to say," Cole said. "But at the end of the day, we just kept working the process."
Still, Cole said the House shouldn't have been in this position to begin with. 
"We've never gone, in the 234 years of congressional history, three weeks without a speaker…There's no parallel to it in American history," said Cole, who has seen seven speakers over his more than 20 years in congress. 
"We should never have been here."
The Longworth House Office Building hallways and Capitol tunnels are now empty and quiet, showing no signs of the dozens of journalists once crowded there while Republicans met behind closed doors. 
But while this battle may be over, representatives said the work has just begun as the country faces yet another potential government shutdown on Nov. 17, when current funding expires. 
"Here we are three weeks later, with three weeks left before another potential government shutdown," Rep. Stephanie Bice (R, Oklahoma City) said between votes Tuesday. "We've got to get back to business." 
Oklahoma Rep. Frank Lucas (R, Cheyenne) was more succinct: "If you burn the building down, you have an obligation to build the next one up. We'll see how great a builder my friends are."
Gaylord News is a reporting project of the University of Oklahoma Gaylord College of Journalism and Mass Communication. For more stories by Gaylord News go to GaylordNews.net.