WASHINGTON — An Oklahoma student was one of five poets from across the nation to be honored by First Lady Dr. Jill Biden at the White House Monday during the Class of 2023 National Student Poets ceremony. 
Chosen from thousands of award-winning poets, Kallan McKinney, a Norman High School student, was selected to represent the Southwest region for a year as a National Student Poet — the highest honor for youth poets in the country.
"In a world that asks us to sprint from moment to moment, to meeting to meeting, poetry reminds us to slow down, take a breath and appreciate the celestial beauty that surrounds us," said Biden, a professor of English and writing at Northern Virginia Community College, during her opening remarks.
"Thank you for reminding us to stand and stare," Biden told the poets. "You've added so much beauty and texture to our world with your words. And we need your talents and gifts —  now more than ever."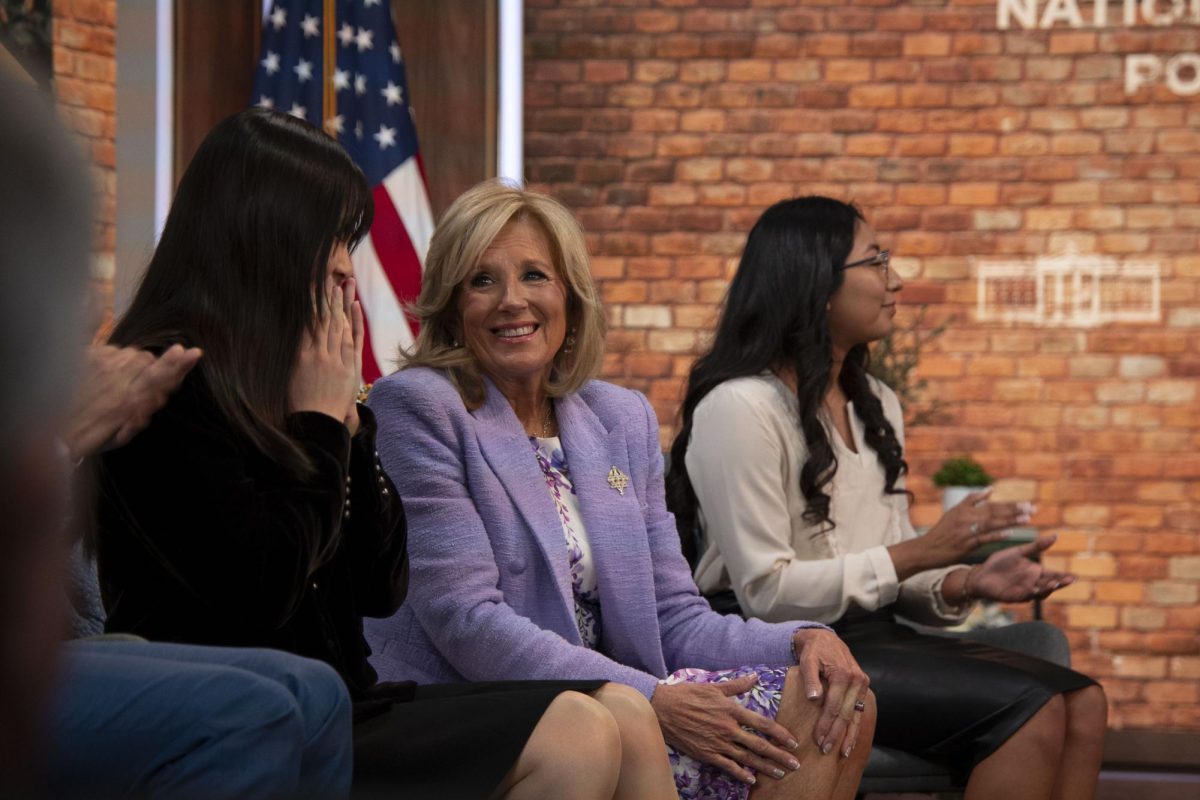 The National Student Poets Program partners with The Institute of Museum and Library Services and the nonprofit Alliance for Young Artists & Writers, which presents the Scholastic Art and Writing Awards, the longest-running scholarship and recognition program for U.S. young artists and writers. 
Created in 2011, the program aims to inspire young people to achieve excellence in their creative endeavors and to promote the role of writing and the arts in academic and personal success, according to Scholastic. 
The National Student Poets were selected from students in grades 10 and 11 who collectively submitted more than 24,000 works in the 2023 Scholastic Art and Writing Awards and received top honors in poetry. Forty semi-finalists were then chosen as the most gifted young poets in their regions based on their originality, technical skills and personal voice, according to a press release for the event. 
After submitting additional poetry and performance videos to jurors, the five National Student Poets were then selected: Jacqueline Flores (Southeast) from Florida, Miles Hardingwood (Northeast) from New York, Shangri-La Hou (Midwest) from Missouri, Gabriella Miranda (West) from Utah and McKinney (Southwest) from Oklahoma.
"(Poetry) means so much to me," McKinney told Gaylord News after the ceremony. "Sometimes I have trouble saying what I mean, and poetry is a way to have conversations. For everything to mean what I want it to mean and to share with other people, and to listen to people. And I think that's so important. And I want everyone to feel like that."
During the ceremony, McKinney was introduced by their best friend, Fishie Madden, along with classmates and teachers from Norman High School, before approaching the podium to recite their poem, "The Shell Gas Station Sign."
"The shell gas station sign floats in floodwater…," McKinney began, the First Lady listening intently along with the rest of the audience. "…Haven't you noticed? The hour we give up in the spring returns as autumn."
McKinney said the 11 line poem is a nod to the subtle ways in which climate change affects our everyday lives, and how these changes represent something much larger.
"Everywhere it feels like there's something that's hurting the environment, and it's been going on for so long. And then all of those things worsen climate change," McKinney explained. 
"I hear the oil rigs from my house in Oklahoma, and I just think about it all the time," they said.
Throughout the year, the National Student Poets will act as youth poetry ambassadors, spreading poetry to their communities through individual service projects, April Poetry Month readings and workshops, and a variety of other opportunities, such as national poetry conferences, galas and festivals, according to the Scholastic Art and Writing Awards website. 
Additionally, each poet will create a community service project that expands the reach of the program by engaging audiences in their region around the issues that are significant to them. 
McKinney said they feel proud to represent the Southwest, and that they hope their poems will help others to feel seen and understood. 
"I want people to feel seen," McKinney said. "That's my main goal. I just want them to feel like someone else gets it."
Gaylord News is a reporting project of the University of Oklahoma Gaylord College of Journalism and Mass Communication. For more stories by Gaylord News go to GaylordNews.net.