Price College to Open Graduate Center in OKC
The University of Oklahoma's business college will be opening a new center for their MBA programs in Oklahoma City.
Construction is already underway for The Price College's new 27,000 square foot Graduate and Executive Center in Oklahoma's Research Park, which is scheduled to be completed in June and to begin hosting classes starting in August. The center will be the new home of the Professional and Full-Time MBA programs in Price College as well as the offices of several faculty and staff.
Executive Director of the MBA Programs Eddie Edwards said the college is making a move to better connect its students with business leaders in the Oklahoma City.
"I think the simple way to say it is we are taking the student somewhat out of the textbook and in to the business world," said Edwards.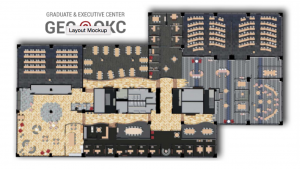 Having the college located between downtown, the capitol, and the energy industry makes it easier for Price to recruit top executives and business leaders to talk to students, rather than ask them to drive 23 miles to Norman.
Edwards said he believes this ease of access will make getting jobs at Oklahoma City companies much easier for his MBA students.
The funding for this new center comes from a combination of private donors, university funding, and an increase in student tuition. The tuition increase will be approximately $10,000 more in each program according to Edwards.
Layout of the new Graduate and Executive Center