Creek Business Woman Finds Advantages in Being a Minority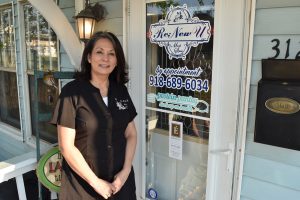 Many minority business owners have legitimate complaints when it comes to breaking into the business environment, but a Native American business owner recognizes it as a positive.
Salina Dornan owns and operates the Re-New U Med Spa located in Eufaula, Oklahoma. She opened the business in September 2016 after previously owning three other businesses.
As a member of the Muskogee Creek Nation, Dornan's tribe is there to provide support.
"They have small business divisions where they help you do business plans and they will help you find a loan if you're wanting to start or expand your business," Dornan said. "They have some great opportunities."
Dornan is also looking to open a spa within a new casino resort that could be coming to the Eufaula area. With her being Creek, she is at the top of the list for being selected for the position.
"Being Creek will help me because I know if you work within the tribe, especially in the casinos, they like their vendors to first be Creek," Dornan said.
Many people may think the word minority brings disadvantages, but not in this case. With the Creek Nation being organized and united, there is great support for the ventures of the tribe members.
The esthetician at the spa, Cindy Antle says she sees the numerous rewards to working for a minority owned business.
"I am looking forward to seeing where this spa can go, knowing we have Creek Nation supporting us along the way," Antle said.