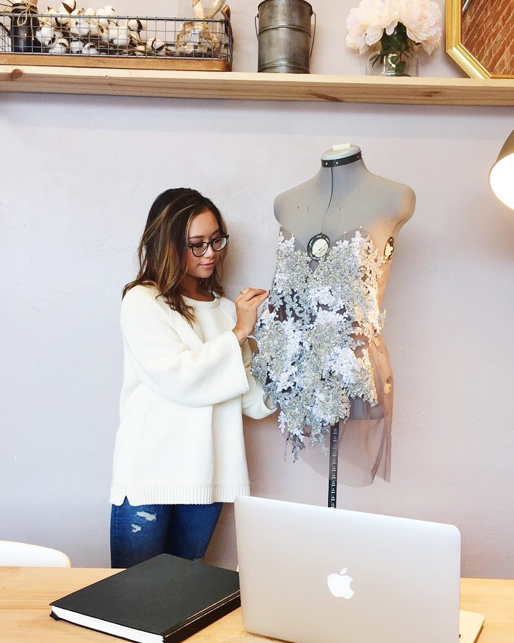 CEO and Creative Director of AVARI Tiffany Nguyen stitches intricate lace and beading detail onto one of her signature dresses on July 15, 2017 at The Coop. The piece took two months to design, and stands as Nguyen's favorite creation to date.
Tiffany Nguyen launched her bridal gown line AVARI on Nov. 4, 2018, in light of a passion that sparked in high school.
As a sophomore, Nguyen began sketching designs in class, and eventually participated in a fundraising event sponsored by her school allowing students to showcase their talents. After teaching herself how to sew, she facilitated her own fashion show, and recognized that design would ultimately become more than just a hobby.
Although Nguyen's designs have been featured in popular publication the Brides of Oklahoma, and worn by countless raving clients, her road to entrepreneurship came with obstacles.
"My parents were never too keen on my starting AVARI. I grew up in a typical, strict, Asian American household. This meant that my parents wanted me to be a doctor, engineer or pharmacist", said Nguyen.
Both of her parents are Vietnamese immigrants, originally fleeing to America to escape war. They were left impoverished, with little certainty of their future. Nguyen places her parents' hardship in a positive light, using their challenges as the cornerstone for success.
"They've taught me the importance of hard work, honesty and perseverance. These traits are worth more than gold, and are the reasons why I am who I am today", said Nguyen.
The AVARI founder hopes to open a brick and mortar business within three years, and is currently curating a sample collection.
"Tiffany made my vision and dream come true, all while doing the same for herself. She is creating this company from the ground up, and living her passion one design at a time", said Nguyen's client Torri Buie.