Oklahoma City Memorial Marathon's first volunteer still gives her time 17 years later
Over two decades ago the Oklahoma City community was shaken by a tragic bombing that killed 168. Ruby Cline, an Oklahoma City resident, was horrified and while she didn't know any victims or survivors personally she felt the pain of their loss.
When an opportunity arose in 2001 to honor those victims and their families through a marathon race, Cline didn't have to think twice about pitching in and became one of the first ever Oklahoma City Memorial Marathon volunteers.
"The bombing just really got to me and this is something that I could do," Cline said. "It's amazing to see how it's changed over the years."
A race that started with almost 5,000 participants had 25,731 runners this year, making it the largest race yet, according to the OKC marathon website. She is now one of the volunteer chairmen who helps with the race each year, she said.
Although Cline has never run the race she knows that the runners dedicate so much time to training and she loves seeing their efforts come to fruition.
"People just really pour their hearts into it and over the years many people have said that this was the most special marathon they've ever done because of why we have it so that's always really touching," Cline said.
Sgt. Nicholas Lewis who volunteered with security was also astounded by the runners' attitudes and perseverance.
"To see so many people show up to run even when it's cold and even when it's raining, they just give it their all and that's inspiring," Lewis said.
The appreciation that the participants have for the volunteers, however, makes those volunteering feel as if their efforts are making a difference. U.S. Grant high schooler *Isabel felt humbled by those that she served.
"It's incredible because they just ran this race and instead of letting people congratulate them they turn it around and congratulate each other and thank us for volunteering," she said.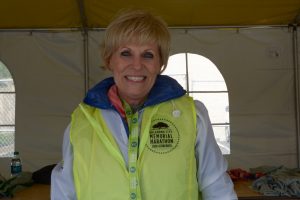 Despite the hours spent standing in the cold, wind and rain, the volunteers still felt that their roles mattered and improved the event thanks to the gratitude the participants showed them.
"Until you really get involved with it you have no idea, we just have a great community, it's just unbelievable," Cline said. "I definitely recommend volunteering. It's hard work, but it's worth it."
*Since Isabel is a minor her supervisor asked that her last name not be used.