A community mourns St. Gregory's University
Shawnee, Oklahoma is not a college town. As you drive through the area, churches and the occasional casino line the small roads. Neighborhoods and open fields fill the town.
Across from The Timbers subdivision lies Unzer Family Circle, a road lined with pine trees and glimpses of cattle. The sign and light posts adorned with Latin signify you've arrived at St. Gregory's University. A lone red truck speeds through the only main road on campus, handling the speed bumps far too well. After the truck parks, the campus becomes still.
The university's baseball field, stables, museum and chapel that once teemed with students are still. The silent areas of activity only accentuate the stillness of campus. A temporary backstop in the baseball field has found a permanent home. A line drive to first base would strike a broken chair, held together by tape, legs buried in the dirt. One student walks by himself toward the baseball field, "Here, we were like a family. Now, we're all very sad."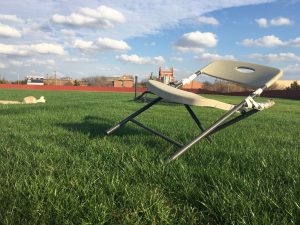 On January 17, 2017, Shawnee voted to separate St. Gregory's University from the city of Shawnee, becoming an unincorporated rural area. In May, St. Gregory's applied for a $12.5 million loan from the Citizen Potawatomi Community Development Corporation through the United States Department of Agriculture's Community Facilities Re-Lending Program.
Less than six months later the federal Community Facility Program ruled the university was in ineligible, citing Shawnee's de-annexing of St. Gregory's for the sole of purpose of qualifying for the loan. Eight days later, the Board of Directors announced St. Gregory's suspension of operations following the Fall 2017 semester.
St. Gregory's final senior class filed into the Don and Jenetta Sumner Field House on Dec. 1 for the university's last commencement. Among those in attendance was Pat Keithley, supporting a community she views as a major part of her life and her community's identity.
Keithley's roots in St. Gregory's were set a century ago.
"My grandfather actually went there back in the early 1900's. He went to high school at St. Gregory's." said Keithley. "I had gone to St. Gregory's and it was a special place. I met my husband James there."
Even Keithley's marriage was intimately tied to St. Gregory's history.
"We got married there in '75," she said. "We heard we were the last couple to get married there."
Keithley's husband, James, worked at St. Gregory's to establish a Master's counseling psychology program. He worked often late into the night, teaching classes in the program he developed. One night, tragedy struck.
"He was coming home from teaching late one night on March 21, 2016 and a driver on meth crossed the center line on Highway 9 by the Thunderbird Dam and killed him instantly," said Keithley.
When Keithley heard the news of St. Gregory's closing, she did everything she could to save a place where she had the time of her life, found the love of her life, and where her husband worked to help so many others in the community.
"My dream was to keep it going everywhere I went," said Keithley. "He would have been fighting to save the school, too. So that was why I did it, to try to save the school for the students and for James."
Keithley explored every avenue she could find to shore up support to keep St. Gregory's open.
"The president wouldn't listen to me there. I tried to go to the archbishop and that was a brick wall. The secretary wouldn't even book me an appointment. She said, 'It's already been decided.'"
Keithley said the decision to shut down was shrouded in defeat.
"I don't know why we couldn't have had some last-minute campaign," said Keithley. "The big problem was once they announced the closing then people just totally gave up."
"It's really sad. It's been in existence for actually 145 years since 1875," said Keithley. "Hopefully, someday we can get it open again. I don't want to give up at that."
Despite this drive, Keithley knows the odds she faces trying to save the university.
"I'm real worried because once an institution like that closes, are the students going to be worried it might close again? Are faculty going to be worried they might be without a job again? I'm concerned it would be very hard to start it up again."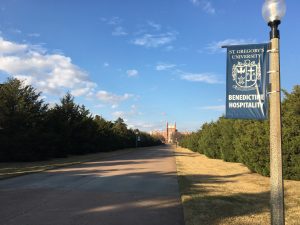 The fight to retain public credibility is difficult. Yet, the most insurmountable obstacle is the reason the loan was declined. On November 20, Shawnee's Board of City Commissioners began the process of the re-annexation of St. Gregory's University, effectively ending the university's chance of obtaining rural development loans in the foreseeable future.
The next step for most students at St. Gregory's is finding a new home. Around 50 students from St. Gregory's have expressed interest in transferring to the University of Oklahoma. St. Gregory's announced the shuttering of their college after OU's transfer deadline. The outgoing administrative staff at St. Gregory's is also struggling with transcript orders as the entire student body needs a transcript. OU's transfer admissions department has worked with these students.
"We wanted to do everything we could to help these students get there because they're homeless, in a sense," said Courtnay Thomas, Assistant Director of Transfer Admissions at OU.
Another challenge in the odyssey of a student from St. Gregory's is regulations set forth by the Higher Learning Commission. The accreditation organization requires students complete half their degree program at a particular institution to graduate there. However, there is a clause in the commission that allows senior students to graduate sooner.
"We are working on something called a teach-out agreement which allows these students to come to OU and help them finish their degree program," said Thomas.
The teach-out agreement is a collaboration between St. Gregory's and OU. The details in the agreement are still fluid, as credits, courses and degree plans are analyzed.
Still, these students face a tremendous change in the upcoming weeks. The classrooms and residential halls will match the activity areas in sharp stillness.
Pangs from the flagpole at the center of campus ring out. The campus has become a little busier as the afternoon settles in.
"I am sad because right now, a lot of people have to look for jobs. Right now, they don't know what they are going to do," the student walking to the field says. "We have to keep moving forward and look for another thing we can do." And with that he starts to practice, wearing a shirt for a team that will not exist in several weeks.
Unzer Family Circle winds around campus and circles back to St. Gregory's entrance. A young couple and three children smile for a photograph in front of the main building, Benedictine Hall, preserving the memory of a future family tradition.