Museum hosts club for young students to promote science
Elementary students are developing a love for the natural world as they participate in a monthly after-school program that promotes science hosted by a local history museum.
The program's Spikes Club instructors at the Sam Noble Oklahoma Museum of Natural History in Norman said the focus on the ice ages will help the young students understand what it was like to live at the time of the ice ages.
"[They] will go into our hall of ancient life gallery, and they will explore," said Carrie McKenzie, who is Sam Noble's public programs coordinator and one of the Spike's Club instructor instructors.
"While they're doing free exploration in the gallery there are guiding questions, so they will be looking for evidences of ice ages," said McKenzie referring to that month's topic. "The questions asked will sort of lead them to the conclusion that there has been more than one ice age and that an ice age does not mean that the entire earth is covered in ice."
Spike's Club is a monthly after-school program that allows children from ages 6 to 9 explore the natural world through activities at the museum. It averages about 20 participants each month, and it is taught by two instructors.
Every month, the club teaches students about different science topics that exist throughout the museum.
When the students aren't exploring exhibits, they're learning about science through making crafts and doing science experiments.
In addition to promoting science education, Spike's Club also allows students to make new friends outside of school.
"Every class we sit down and introduce ourselves in case there are any new kids," McKenzie said.
Despite that, McKenzie said every session has a lot of repeat attendance, so the kids have really gotten to know each other and develop different types of friend groups.
"They meet people that they might not know because they're all from different schools," she said.
Due to the time and location of the program, it mainly attracts students from the Norman community, according to McKenzie.
"Since it is right after school we typically get a lot of Norman kids, as opposed to our weekend activities, where we might get a larger radius," said McKenzie.
McKenzie said students might travel from Edmond or Tulsa for weekend programs because there are less time constraints for them then than on the weekdays.
Dawn Jackson sits in on Spike's Club every month to watch her daughter Eris Jackson, an elementary school student from Norman, in class. Dawn sits the back of the room away from all of the activities.
"She has type 1 diabetes," said Jackson, talking about her daughter. "In case she needs something, I'll be here."
Eris's illness doesn't stop her from enjoying the program, though.
"She really likes coming to this museum and has very much enjoyed the classes," Jackson said. "We've been coming here for about a year."
Eris was among 18 other Norman-area elementary school students enrolled in Spike's Club this month.
Although she had fun the entire evening, Eris thinks the best part about this month's Spike's Club was when she got to imagine what life was like during the ice ages.
"My favorite part was coloring about the ice age," she said.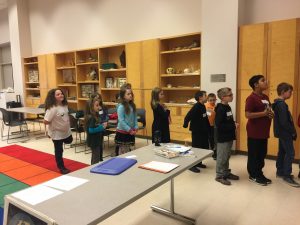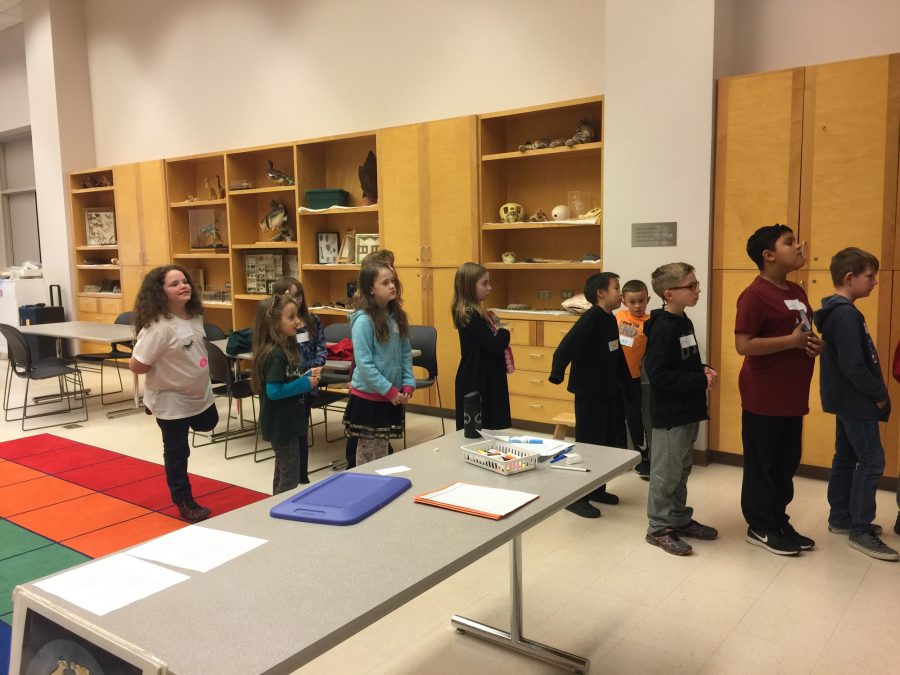 Josie Wagoner Garrard, Sam Noble's outreach coordinator and the second Spike's Club instructor, said the best part about the program is that students like Eris get to see and experience the museum in a unique way.
​"They get to do experiments," said Garrard. "They get to do projects. They get to go out in the exhibits with nobody else there and really just get a different point of view of the museum. It's a lot of fun."
Spike's Club is open to the public, but it costs $10 for members of the Sam Noble Museum and $15 for non-members, but financial assistance is available for families who qualify. To qualify for financial assistance, families also have to qualify for the free or reduced lunch program at their schools.
Students must register online, and advance registration is required because space is limited. The program typically takes place 4 p.m. to 6 p.m. on the first Thursday of the month.
For more information about Spike's Club and details on how to register for the program, visit http://samnoblemuseum.ou.edu/education-2/spikes-club/ .