Potawatomi Fire pro basketball team drawing community support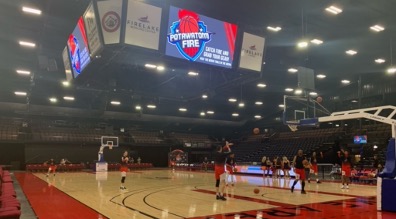 SHAWNEE – Oklahoma's newest professional sports team, the Potawatomi Fire, is 14-6 and in fourth place in The Basketball League's central division in its inaugural season — not bad for a team that is less than a year old. 
 "We're wrapping up our first season with the Potawatomi Fire and we're excited about how the team and community are investing in each other," said David Qualls, the Fire's general manager and designated tribal spokesman for the team.
Citizen Potawatomi Nation became the first tribe in Oklahoma and the U.S. to own a professional sports team when it founded the Fire in October of 2021.
"Diversifying in this way helps CPN make use of FireLake Arena and attracts a new demographic of fans—it's a different fan base than single-event sports like boxing or MMA," Qualls said.
"We have Native players on our team and this has given them an opportunity to play at a level that's higher than high school or college, and hopefully is a stepping stone in their careers. They're professional basketball players."
Qualls, who has served as director of Citizen Potawatomi's FireLake Arena since 2018, became  general manager after playing an instrumental role in bringing the franchise to Shawnee. Qualls is a longtime employee of Citizen Potawatomi Nation and a citizen of the Cherokee Nation.
"I had bought this basketball court as a product for the arena to do basketball tournaments, high school, maybe some college," Qualls said. "Last spring, I caught a press release of this TBL and that they were expanding from 16 teams to 29 teams that year. I got to look into the semantics of it, the budget and cost and what the return would be. It just fit the business model of something we could do here."
Qualls presented the idea to tribal leaders, who attended a TBL game in Enid to ensure it would be a worthwhile investment. They were impressed with the community involvement in Enid and signed off on the proposal.  The league now has more than 40 teams divided into four divisions.
Thus far, the Fire have proven to be a great investment, selling about 1,200 tickets per game, about half the arena's capacity. Qualls said the team reached its goal of turning a profit in its first season.
Qualls said the nature of the investment fit nicely with Citizen Potawatomi's pre-existing infrastructure. Such a venture would have been more difficult if the tribe didn't already own and operate an arena.
"It wouldn't have been impossible, but it would have required a group of investors. You would have been bouncing around between two or three high schools. It would have taken a lot more people, a lot more work, a lot longer diligence period, a lot longer payback period. You probably wouldn't have been able to do it as professionally because simply, the budgets wouldn't let you do it."
He said some TBL teams broadcast their games with an iPad, with quality comparable to a Facebook livestream. In contrast, the Fire maintains a full audio and visual staff that produces a high quality livestream for every home game, complete with audio commentary.
After receiving approval from tribal leadership, Qualls began searching for a head coach. The first name on his list: Derrick Rowland, TBL-championship-winning coach of the Albany Patroons.
Qualls figured it would be difficult to lure Rowland from his established dynasty, but Rowland was eager for the challenge and excited by the prospect of coaching the Fire.
"It wasn't that tough of a decision," Rowland said. "I had a lot of success there. But this just looked like a new challenge. It intrigued me that this was their first year having a team and I knew the background and the history of the Potawatomi Nation. And I just wanted to be a part of this historical thing that they're doing. So when I looked at everything, it was a pretty easy decision for me to come and try to do some of the things here that I've done in Albany."
Rowland isn't the only one excited by the idea of a tribal-owned team. He's found success using that fact as part of his recruiting pitch to potential new players.
"Everything we do, we're playing for history, because this is historical. Being the first Native-owned team in the state, a lot comes with that. And that's appealing to the players as well. But yeah, that's a part of my motivation to get across to the players. And it's special."
Another key part of his pitch is the team's access to FireLake arena.
"It's a huge advantage for us because we don't have to go through the arena fees. Many teams do, that's part of their budget. We have access to the arena all the time, and it's just a great place to improve yourself and work on your basketball game."
One player who didn't need a sales pitch is Tevin Foster, a guard from Lawton. Foster is a citizen of the Comanche Nation.
"I was like, man, this is gonna be a good opportunity if I can get on with this team and be part of a Native pro basketball team sponsored by and promoted by a Native tribe," Foster said. "I was like, man, it's gonna be a good opportunity for me. It's gonna be history."
Foster has firsthand experience with the tribal basketball community in Oklahoma and the surrounding region, and he's excited by the impact the Fire is having.
"Back home I train a lot of kids, and most of them are Native American. Being a part of this will help elevate the Native American community," Foster said.
Foster's presence has added a new dimension to the team, on and off the court.
"Having Tevin here has been great, with his Native background, and you know, he's a great player," Rowland said. "He plays hard. He's smart. He's coachable. He's everything you look for in a player. And he definitely brings insight to some of the stuff that we just didn't know."
The Fire have four games remaining in their first regular season before entering the playoffs and vying for the ultimate goal: a TBL championship.
Gaylord News is a reporting project of the University of Oklahoma Gaylord College of Journalism and Mass Communication.