Damage Done: Sooners falter in opener against East Carolina
CHARLOTTESVILLE, Virginia – Almost exactly a year ago, the Oklahoma Sooners opened the NCAA Tournament with a massive 16-3 win over Liberty in the Gainesville Regional. After being one of the "last four in" to this year's tournament, the Sooners didn't begin their road to Omaha on the smoothest of roads.
That didn't happen this year. Instead, OU suffered a 14-5 loss to the East Carolina University Pirates in front of a noisy ECU-friendly crowd. And it will take The Sooners are now one loss away from being eliminated.
The game began with a tale of two starting pitchers. One was dominant, the other was dominated. Unfortunately for OU, their starting pitcher, Braden Carmichael, was the one who got dominated.
The usually reliable left-hander struggled with his command and walked five batters through a very short outing of less than three innings. Prior to this start, Carmichael hadn't walked more than two batters in one start all season. Carmichael was handed his first loss of the season and now has a record of 7-1.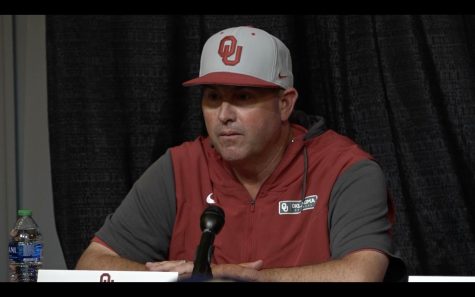 OU head coach Skip Johnson did not waste words on Carmichael's performance.
"When you get out of rhythm like that and make pitches, you start trying," said Johnson. "When you try in this game you fail. You really got to take the game one pitch at a time."

OU's pitching woes did not end with Carmichael, however. Four different Oklahoma pitchers allowed multiple earned runs. The Pirates scored at least a run in every inning except for the first.
East Carolina's starting pitcher Trey Yesavage was a riddle the Sooners' lineup just could not crack. The 2024 MLB Draft prospect had the Sooners confused for most of the 5.1 innings he pitched.
With the Pirates pulling ahead in the bottom of the second, Yesavage was working with a lead for most of his outing. Oklahoma outfielder Kendal Pettis thought he and his team let Yesavage get too comfortable with that lead.
"A couple of our coaches said before the game 'who can get comfortable first' and I feel like they got comfortable first," said Pettis. "I think that really allowed that pitcher (Yesavage) to get in there and throw strikes."
It wasn't until the top of the sixth inning when Sooners catcher Easton Carmichael finally got the Sooners on the board with an RBI single. After Yesavage allowed his first run of the night, ECU head coach Cliff Gotwin decided to pull him.
OU faced elimination twice before reaching the Men's College World Series a year ago, albeit not this soon into regionals. Despite that, however, Skip Johnson welcomes the challenge.
"What's good about us losing the first game and we win tomorrow, everyone we're going to play is coming off a loser's game," said Johnson. "And it's pretty tough when you're coming off a winner's game versus a loser's game."
Johnson also stressed the importance of moving onto the next game.
"I don't know if you deal with 18 to 24- year-old men. I really hope they think about winning and losing, but they have to separate it. They have to flush it and get to the next pitch. You just come out, compete and win pitches and win innings.

With Virginia beating Army earlier in the day, the Sooners will face the latter in an elimination game while ECU goes on to play Virginia. If OU beats Army, they will play the loser of the Virginia-ECU game. Win that, and the Sooners will play for the regional final.
Sadly, after how they looked tonight, that seems to be a pipe dream.
Gaylord News is a reporting project of the University of Oklahoma Gaylord College of Journalism and Mass Communication. For more stories by Gaylord News go to GaylordNews.net.