International Students are Given Something to 'Buzz About'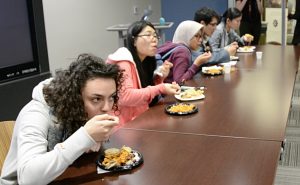 The pungent smells of Indian curry and African rice wafted into the Bookmark Café as students huddled around foods most had never before seen.
The University of Oklahoma's Information Technology 'Boomer Buzz' hosted an event specifically for international students. Boomer Buzz is a student-lead program that serves as a way for students to connect with one another on campus and learn about a variety of topics all the way from a new app to foreign foods.
The event 'Delectable Diversity,' held in the Helmerich Collaborative Learning Center in the Bizzell Memorial Library, allowed students to showcase foods from their different homelands. This is the first event Boomer Buzz has done in collaboration with OU's international student organizations.
"Food brings people together, and when you include foods from different cultures; it makes it a cultural experience, as well," Boomer Buzz member Oliver Flowers said.
With two international students joining the IT program this past fall semester, Boomer Buzz members said they thought it was important to have an event that promoted diversity and included different unique cuisines.
Representatives from organizations such as the Indian Student Association and African Students Association brought different dishes from their native countries. Treasurer of the African Students Association D'Andre Ajayi said that food is a universal tool to expose people to different cultures and countries.
"America is like a melting pot of diversity, and we should encourage that on campus," Ajayi said.