Devastating Mid-Month Ice Storms
On the weekend of Jan. 13, 2017, Oklahoma experienced one of the worst ice storms the state has seen in 15 years. The event caused Gov. Mary Fallin to declare a State of Emergency for all 77 counties.
According to the Oklahoma Climatological Survey, the northwestern part of the state was hit the worst, where the ice thickness got up to 1.5 inches. The state, as a whole, felt 2.52 inches of liquid precipitation, which is nearly an inch above the average rate for January in Oklahoma.
The Oklahoma Department of Emergency Management said that the storm resulted in 65 injuries statewide. Additionally, two electrical linemen were electrocuted in Beaver County while restoring services. One of the men was killed.
"Ice storms in Oklahoma have been on an increase over the past decade," Margret Boone, a Program Manager at the Oklahoma Climatological Survey, said.
Boone says that while Oklahoma has seen some harsh ice storms over the past 15 years, the earlier months of the year are continually getting warmer.
"Warmer temperatures in the winter tend to, in Oklahoma, lean more towards ice storms," she said.
This statistic causes concern for Boone, who observes that with these warm weather trends continuing, there will most likely be more ice storms for Oklahoma in the future.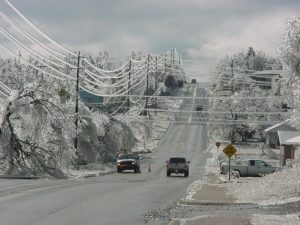 LynnK827/Flickr