Beaird Lounge is a popular study area in the Student Union. Twice a semester, it experiences a drastic transformation. Couches are replaced by sound equipment and stage lights take the place of tables as the room becomes a concert venue.
The Union Programming Board began hosting Sound Lounge in 2013 and it has since become a major part of the Board's yearly agenda. The night features live performances, free food and community for OU students.
Dalton Butler began directing the event in 2015 and said it has become more than just a concert on campus.
"Giving artists and performers the ability to put on a live performance is different than just recording songs and putting them on YouTube or Soundcloud," he said. "It really gives them the opportunity to perform for a crowd and feel what that chemistry is like."
Joshua Jackson, known by his stage name Zalta, said his experiences with Sound Lounge have contributed to his growth.
"The recent Sound Lounge was my fourth time to perform," he said. "It's helped me as far as performing for people that are my age. People in my hometown are older, and just don't get into the music like they do here. Seeing that they feel some of the music I play helps a lot."
The Okmulgee native added that it has opened doors to more opportunities to showcase his talent, and build meaningful relationships.
"It's helped me get other opportunities to sing at other places around here," he said. "Getting to meet and know other artists makes me want to work harder. There are a lot of people that I wouldn't have been able to reach without that platform."
For more information about Sound Lounge or to inquire about performing in the next event, visit http://www.ou.edu/upb.html or contact Dalton Butler at [email protected].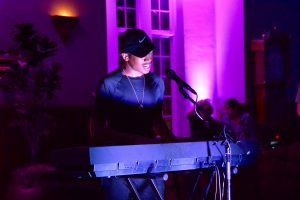 Listen to Zalta's original music here: http://https://soundcloud.com/joshuvelli