A museum in Norman, Oklahoma, recently opened an exhibit which combines indigenous knowledge and modern science to deliver environmental sustainability.
The Sam Noble Museum unveiled "Roots of Wisdom: Native Knowledge. Shared Science." from the Oregon Museum of Science and Industry on January 26. Residing in the museum's temporary exhibit space, the display offers four stories of Native people's ecological restoration methods, which include stream reclamation, Hawaiian pond revitalization, river cane transplants and reconnection with native foods.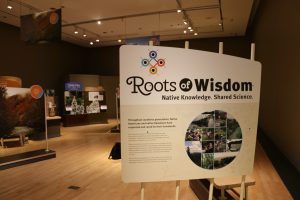 According to the United Nations water inter-agency, 3.5 million deaths occur each year due to poor water quality.  The Indian Health Service reports that Native Americans have a lower life expectancy than other races due to health-related epidemics. "Roots of Wisdom" shows possible answers to the health and ecological problems native communities currently face.
"While the lifestyles of traditional societies might not be capable of solving some of the more pressing issues," said Dr. Dan Swan, curator of the exhibit, "there are definitely lessons to be learned from them that can be applied to more modern adaptations of the environment."
Patrick Riley, the environmental programs manager for the Oklahoma Department of Environmental Quality, had a similar opinion.
"We don't spend as much time in the environment so we don't see the impact of what we do has," Riley said. "If we can go back to a simpler time and recognize what we do does have an impact, then…we're better off."
"Roots of Wisdom" will be at Sam Noble Museum until May 7. Additional resources can be found at www.samnoblemuseum.ou.edu, or call (405) 325-4712.