Norman Forward Seeks New Multi-Sport Facility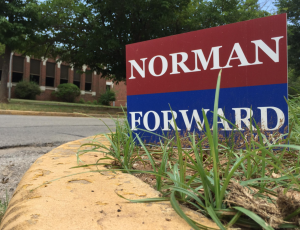 In October of 2015, Norman citizens passed the Norman Forward sales tax proposal. The goal of this proposal was to generate revenue to fund the construction of a wide variety of community facilities in Norman, including youth sports facilities.
This proposal initiated a one-half sales tax lasting 15 years. The revenue generated will fund the bonds being used to finance the projects. Among the proposed projects is a new multisport facility that will house basketball and volleyball.
Plans are to locate the new facility on the east side of the YMCA location off of Robinson street. The issue is that there is already a basketball facility in this location; the Norman Optimist gym.
The Norman Optimist Club's gym was built in 1942 as a naval military hanger, and was repurposed to become an athletic facility shorty after construction. The Norman Optimist Club has leased the hanger from the University of Oklahoma since the early 1970s, primarily hosting basketball leagues.
Jack Kasulis, a marketing professor at the University of Oklahoma, was a long time member of the NOC dating back to the early 1980's.
According to Kasulis, Norman Forward has yet to reach a formal agreement with OU to build a facility in that specific space, even though Norman Forward still claims on their website that the new complex will be built in this space.
In such a time of uncertainty, Walter Boyd, executive director of the Norman Optimist Club, still envisions a bright future for this historic gym.
"I think there's something that can be done with this place that can definitely benefit the city, and benefit the community for another 70 years."
For more information on the Norman Forward projects, visit http://www.normanforward.com/index.php?projects