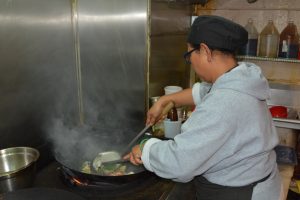 Business owner Mar Aye Attamakulsri cooks the number 35 at Thai Kitchen Cafe in Oklahoma City on Thursday March 30, 2017. 
"Whatever customer walks in that door, that's my customer. Even though homeless guy walk-in, its okay to me," Thai Kitchen owner Mar Aye Attamakulsri said.
Mar said this shortly after cooking and giving a meal to a homeless man at the corner of NW 4th St and Dean A. McGee Ave. where her business, Thai Kitchen Café is located.
Mar and her husband Issara own and operate Thai Kitchen Cafe, an authentic Thai food restaurant located in the heart of Oklahoma City. With eleven years in operation the couple opened the restaurant because of their passion for food and people.
"I cook from my heart, not just only because I wanted money because I don't really think about the money," Mar said. "I feel so happy and I wanted to cook more and more and more."
The Thai Kitchen employees come from several different cultures such as Thai, Asian, Polish and Hispanic. The Attamakulsris took in polish refugee Marek Niemirski in 2013, gave him a job at Thai Kitchen, and took him to classes to completely learn the English language.
"I don't have the words to say what they did for me already," Niemirski said. "You know when you come into a different place you don't know anybody and somebody give you the job and then helping you to make yourself bigger and feel better."
The Attamakulsris believe in quality not quantity; but may open another Thai Kitchen Café in the next five years.
To check out Thai Kitchen's menu go to http://www.thaikitchenokc.com/contact.htm.