Denver Tailor Benefits from Location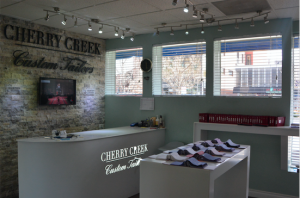 After ten years of personally owning and managing a family tailor shop, Han Yorumez theorized why the shop has done so well.
Cherry Creek Custom Tailors is located in Denver, Colorado, and was started by Yorumez's family over 40 years ago when they came to America from Turkey, Yorumez said. He said the shop being located in a higher end part of town has been key in keeping the business afloat throughout the years.
"We stay here because people go shopping all the time and they have money to spend," Yorumez said. "It's a business planning strategy, you have to know your location."
Yorumez's theory on location is reflected in the views of his customers, with those in his shop believing they will receive quality work because of the location.
"I found (Cherry Creek Custom Tailors) and the area gave me confidence that they would be able to do a good job because representationally I don't think they would be able to stay here if they didn't do a good job," said Nicole Mayard, a citizen of Denver and a customer of Yorumez's tailor shop.
The tailor shop does well, usually bringing in over a thousand dollars a day, and Yorumez was able to renovate the inside of his shop recently to reflect the upscale area, he said.