The Grind – Second Wind Coffee acts as campus hotspot for diverse community
Nestled on the West side of Buchanan Ave near Campus Corner, Second Wind Coffee House appears to be just like any other coffee shop. But the atmosphere inside the walls makes the small blue building stand out among the rest.
Classified as a non-profit organization, Second Wind is run by a volunteer staff that recommends donations, rather than set prices for the coffee.
"There is no expectation to pay here," said volunteer barista Thomas Beierle. "It's all about bringing specialty coffee to people who can or cannot afford it, whatever budget they are at."
Opened in 2008, the shop was brought to life by the First Presbyterian Church of Norman. The coffee house was originally intended to act as a missionary extension for the church but over the years has become much more.
"At first there was a little bit of an in-group," said Beierle. "People who worked here or knew workers were the only people to come here. We are diversifying in the people that come here. This semester, we have had the highest rate of first time and returning customers."
The main mission of the shop is to provide a space for community among the students in Norman, and Beierle said that the product is what is pushing the organization forward.
"Coffee is just an international unifier," he said. "Not only is it a market and industry, but people are brewing coffee all over the world. It has international appeal and everyone understands coffee on some level. Second Wind is supposed to be an open, inclusive place to meet new people. That's why I came here two years ago. To come into a space and already have a mutual interest with someone is special."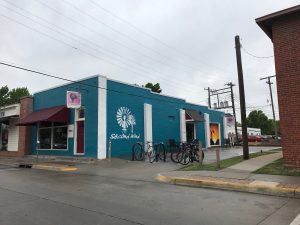 Second Wind Coffee is located at 564 Buchanan Ave., and is open Sunday through Friday from 9 a.m. until 10 p.m., while closing at 8 p.m. on Tuesdays.