March Fires in Oklahoma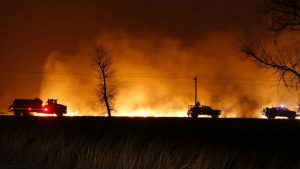 March in Oklahoma proved to be one of the worst months for wildfires that the state has seen. It began with the ignition of four large fires on March 6 that were labeled the "Northwest Oklahoma Complex."
The fires were responsible for destroying 779,292 acres of land along the northwest Oklahoma and southern Kansas border. The fires also resulted in the destruction of at least eight Oklahoma homes.
According to the Oklahoma Cooperative Extension Service, the fires had an economic impact of more than $16 million.
"The Northwest Oklahoma Complex itself burned a footprint that is larger than the state of Rhode Island," Drew daily, a member of the Oklahoma Forestry Services, said.
"The largest of those four fires, it moved 67 miles in approximately 10 hours," he said.
That fire, which was labeled the Starbuck fire, originated in Beaver County before making its way up into Kansas and then back down into Harper County, Okla. Of the 779,292 acres the Northwest Oklahoma Complex destroyed, the Starbuck fire was responsible for about 623,000 of them.
According to Daily, the Oklahoma wildfires in March of 2017 were noticeably different than ones in the past
"The rate of spread, how fast the fires moved across the landscape, it was impressive," he said.
"Fires moved in excess of 10 miles per hour."
As for the possibility of similar fires to come, Daily does not see any to come soon but knows not to count them out.
"We don't see anything for the near future but then again it's always a rapidly changing fire environment."
The next rise in Oklahoma wildfires is not supposed to hit until early August, but Oklahomans should still be alert for fire events like the ones in March.