OU professor recalls university's racist history
Students and staff at the University of Oklahoma celebrate the final day of Black History Month commemorating the racial history at the university and discussing how to be more effective antiracism advocates.
Professor Emeritus George Henderson Ph.D., the founder of the OU Department of Human Relations, presented his lecture, "Race and the University: A Memoir," at the Traditions West clubhouse on Wednesday evening.
Henderson, the third African-American professor at OU, was hired in 1967. "I accepted the offer when a student told me, 'We need you here,'" he said.
"Two weeks after I arrived, I began pushing to desegregate on-campus living," said Henderson, "OU is not the white campus it was before." Henderson encouraged students to finish the work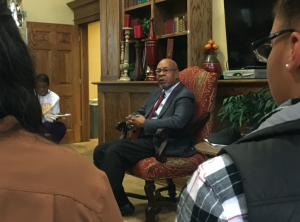 he started.
Crystal Graves, president of the Black Student Association, said while she has seen positive changes in the racial climate in her time at OU, black students often combat the stereotypes that come with skin color and cultural differences. "We, as a community, all need to strengthen our relationships," she said.
Karlos Hill, director and associate professor of African and African-American studies, said "facilitating dialogue on race, racism and antiracism is the first step" to countering racism on campus. "We want students to know these conversations exist, and then they can continue to converse with their peers," he continued.
Henderson emphasized that current students need to work for the future students. "It's always about the babies," he said, "we have to keep fighting for a better life for them."