What the walkout is about
Traci Hanna will be among thousands of teachers walking out across Oklahoma on Monday. Pay raises have been a factor in the walkout, but Hanna will be offering her support for her students.
Pay has been an issue for many teachers. Hanna, a mother of two, worked a part-time job in December and received a larger paycheck that month than she does as a teacher in a month for the Cache School District, which is located 100 miles southwest of Oklahoma City. The only requirement for the part-time job was she had be over the age of 18 and have a drivers license – unlike teachers, who are required to have a college degree and a teaching certificate.
Hanna has been a math teacher for 24 years. She was appointed as chair of the Oklahoma State Textbook Committee in 2016 by Governor Mary Fallin.
Hanna has worked to make sure the math textbooks meet state standards. But, while Oklahoma has been selecting new textbooks to meet updated standards, schools cannot afford to buy these books.
Hanna said she has been teaching from the same textbook for over 16 years.
"It's great that we got a raise, but we need to fund education. That's what it's about – not a teacher pay raise," she said, referring to last week's passage of a tax hike that provided funds for a $6,000 pay raise. "I have been dealing with less for a long time, we need to take care of our students."
Teachers asked the legislature for $2.46 for each student per day. They were given 43 cents.
Teaching has been more than just a job to Hanna, who provided a home to three students throughout her 24 years.
This Monday, Hanna, like many teachers she will be joining, will be walking out for increased funding for each student.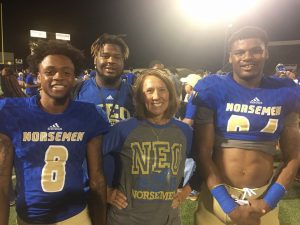 Traci Hanna with Marcheenan Hair, Keeyante Woods and Chris Bishop. Hanna went to watch her three former students as they played for Northeastern Oklahoma A&M College, one of many college games she has attended to watch her former students.
"I believe in our state," Hanna said. "I guess that I am an optimist and I just really believe that we can be great, but we can't be great with just 43 cents a day."

Traci Hanna teaches math and has a masters in education.