OU Offers Affiliate Abroad Destinations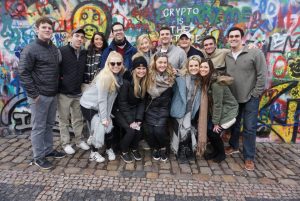 Education Abroad, at the University of Oklahoma, offers students assistance and resources to approved affiliate programs.
From 2014 to 2017, student's participation in education abroad has increased by almost 25% due to two additional programs in Mexico and Brazil, and a heightened level of study abroad awareness on campus.
This growth developed stricter requirements based on the destinations available, including the capacity of the program, as well as the students' academic status in their designated college.
"With many program options in regards to program length and discipline of study, we are able to direct students to the best program for them based on their priorities" said director of Education Abroad, Whitney Franca.
There has been an increase in faculty leading short term study abroad programs, which are sponsored by nearly every OU college.
"I met with Dalynda Evans through the Business School and she showed me all of the different opportunities" said senior finance major, Mac Metzler. "I was a little ahead with my hours so I was not able to go with the program through OU, so then she showed me the affiliate programs."
OU currently has an active agreement with specific affiliate providers and other universities abroad in which students have a wider range of options.
"OU can connect (students) to study abroad programs in over 80 countries and 200 cities" said Franca. "These programs vary in price, length and academic availability. Between them all, we are able to help people find options that work for them."
//
https://issuu.com/oucis/docs/compass_final
http://issuu.com/oucis/docs/international_profile_2014?e=4031409/9088109