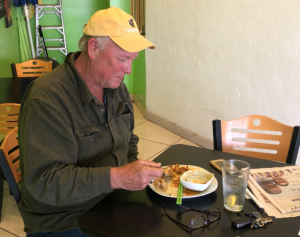 A Thai restaurant is preparing to open a second Norman location to better serve dine-in customers. We don't order food from any of the big food companies like Cisco or U.S. Food or any of that. She goes out and picks out every little thing so anything you eat in here has been hand-picked by her. Every single thing.
Clinton Strickland, co-owner and manager of Thai Thai Asian Bistro, said the restaurant receives a large amount of takeout orders, but the small size of the business can drive customers away. The restaurant serves about 200 customers a day at its location on West Main Street in Norman, which sometimes causes a line to go out the door.
"I think a lot of people don't come dine here because they know if they want to come during the rush, they really can't," Clinton Strickland said.
The second location on 24th Avenue North West will be bigger and will allow more customers to eat at the restaurant, said Aimorn Strickland, co-owner and head chef of the business. It will also be open longer since it will not close between 3–5 p.m. on Tuesday–Sunday like its current location.
The couple first opened their restaurant eight years ago. Aimorn Strickland was inspired to open her own business after working at other Thai restaurants in town.
"I like to cook, and I had dealt with wait staff before so (I was) like 'Let's open a small Thai restaurant,'" Aimorn Strickland said. "It's our first one, so we've learned every day since we've started."
Clinton Strickland said they would like to open the new location before Christmas, but the building does not have a certificate of occupancy yet.