Padres taking hard look at ex-Mississippi State star
PEORIA, Arizona — The San Diego Padres are ready to get an extended look at a former Mississippi State standout as they build toward the future.
Hunter Renfroe, one of the stars of the Bulldogs' 2013 College World Series team, made his major league debut last September and is seen as a lock to open the 2017 season with the big league club. He acquitted himself well in his 11 major league games, hitting .371 with four homers in 35 at bats.
"It's easier getting there than staying there," Renfroe said. "Getting there was awesome, had a great time, and now I've got to stay there for as long as possible and work as hard as I can to stay there."
Renfroe is part of a youth movement for the Padres, who do not have a position player on the active roster older than 30. He and fellow outfielder Manuel Margot are two of the main building blocks for a franchise that hasn't reached the postseason since 2006.
"It's going to be one of those years that we learn from, and we go out there and we learn from our mistakes, and we figure out how to get better," said first baseman Wil Myers, who, at 26 and with four seasons under his belt, is one of the elder statesmen on the Padres. "Because I think, with the talent we have in this room right here, I think it's going to be very special one day."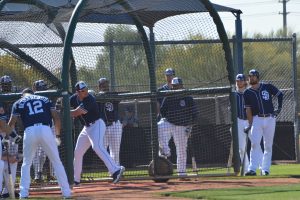 Renfroe, a Copiah Academy product, was drafted in the first round of the 2013 draft by the Padres and has performed well in the minor leagues, earning MVP honors in the Triple-A Pacific Coast League last season. He said he's focusing on his plate discipline during camp, but Padres manager Andy Green is still waiting for that focus to pay off.
"It's an area of work for him. I think spring hasn't showed too much improvement in that area specifically," Green said. "I think Hunter has hit some balls incredibly hard. I think that Hunter's going to hit a lot of balls out of the ballpark before the year's out. He still has work to do in that area, and we constantly are talking to him about that."
Renfroe is hitting .273 with an on-base percentage of .314 this spring — a slight slump compared to those torrid few weeks at the end of the 2016 season.
"What he did last year was incredible," Myers said. "He's a great player with great talent, and I'm very excited to see what he can do in a full year in the big leagues and see what he can do hitting behind me."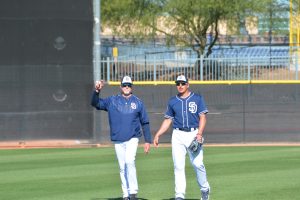 Renfroe has impressed with his arm as well as his bat. He displayed his defensive prowess in a March 12 game against the Indians, gunning down a tagging Abraham Almonte at the plate for a double play.
"I know he's had a ridiculously strong arm for a long period of time," Green said. "But that was the first time I saw him really get his feet behind the throw, get his body moving in the right direction, do everything fundamentally correct and throw a strike to the plate and throw a fast runner out.
"He's got the ability to change the game in the field and at the plate. It's all going to be predicated on his plate discipline, though."
Jesse Pound is a writer for OU Covers Baseball, a journalism project covering spring training by Gaylord College of the University of Oklahoma.