Reno Aces Infielder practicing multiple positions
SCOTTSDALE, Arizona – A Reno Aces infielder is practicing at multiple positions in spring training as he looks to build on his strong finish to the 2016 season.
Jack Reinheimer, 24, played college ball at East Carolina before being drafted by the Mariners in 2015. Primarily a shortstop, he was acquired by Arizona in the 2015 trade that sent Mark Trumbo to Seattle, and he spent all of the 2016 season with the triple-A Reno Aces, batting .288 and tallying 28 doubles.
Reinheimer finished last season on a hot streak, hitting .390 with an on-base percentage of .461 in his last 21 games. Now in his second spring training with the Arizona Diamondbacks, Reinheimer feels a little more settled.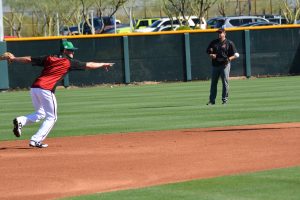 "Coming in, (it's) a little bit more comfortable just because you know what to expect," Reinheimer said. "It's partly a new group of guys, which was cool getting to meet new faces and stuff. But for most part, a lot of the same guys, just a little bit more comfortable."
The Aces open a five-game set Thursday at the Fresno Grizzlies before returning to Reno on Tuesday for their home opener against the Albuquerque Isotopes.
But he is the last hope for the Diamondbacks getting anything more out of the Trumbo trade, because the other three players were either designated for assignment or non-tendered, , according to sportswriter Jack McClennan, of SBNation.com
Reinheimer may be more comfortable in the clubhouse, but he is having to learn some new positions. Reinheimer has been bouncing around the infield during spring camp.
Diamonbacks third baseman Jake Lamb thinks Reinheimer's versatility is a plus for him and the big league club, especially considering the Diamondbacks' plan to use more defensive shifts this season.
"He's putting in work at second, short and third," Lamb said. "Anytime you can play multiple positions, it's a value to the team. And Jack's been doing a great job getting equal reps at every spot."
The ability to play three positions has caught the eye of Torey Lovullo, who was hired as the Diamondbacks' new manager last November.
"I think he's a guy that, for me, is comfortable in any position," Lovullo said. "He understands his role in the batting order. Defensively, he makes all of his plays. It's been fun for me to watch him move around t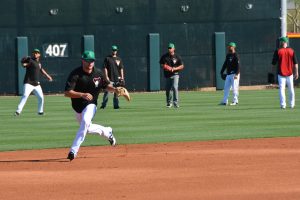 he infield."
Reinheimer has been part of a crowded infield in spring camp for the Diamondbacks, which will soon see first baseman Paul Goldschmidt return from playing for the United States in the World Baseball Classic.
"There's a lot of talented infielders here, and we've all been competing," Reinheimer said. "It's been a lot of fun."
Reinheimer said he expects to start the season back in Reno, but as a member of the Diamondbacks' 40-man roster, there's a good chance his major league debut comes this summer.
He has two places in mind for his first big league at bat.
"It would be cool to open up at home, to make the debut here at home (in Phoenix), that'd be nice," Reinheimer said. "Growing up, my dad was a big Cardinals fan, so it'd be cool to play in Busch Stadium."
Jesse Pound is a writer for OU Covers Baseball, a journalism project covering spring training by Gaylord College of the University of Oklahoma.