Waffle fries, ribs and brisket. A secret sauce that no one knows the recipe to, and great hospitality. Roy's Barbecue opened in Chickasha, OK 46 years ago, and the smoky fire has yet to subside.
Roy Bryant was no stranger to good food when he opened the joint in 1971. As a young man, he spent his time cooking for various restaurants. The experience, combined with his love for barbecue, brought him to buy a small building on the east side of town.
Soon after, popularity exploded. Knowledge of the smokehouse travelled outside of Chickasha, and beyond the Oklahoma state line. There are tales of Barry Switzer landing his helicopter in the gravel parking lot, and even actor Tyler Perry has heard of the restaurant.
Although in his 90s, Roy still has a hand in everything. He has traded his time in the kitchen for a seat near the west window, where he can stealthily swat flies. His wife Clara sits just feet away, alternating between running the cash register and hand sorting fresh beans.
The business has become part of the family name, and multiple generations have begun to pitch in. Felicia Bryant Graham is a daughter of Roy and Clara, and has been part of the operation since she was 15.
"I'm the seventh of eight children," she said. "They sent me to college and I became a teacher but I moved back to help them run the business for as long as they want to."
Although the food is the main attraction, Graham believes that the family-like hospitality is what brings customers back to Roy's.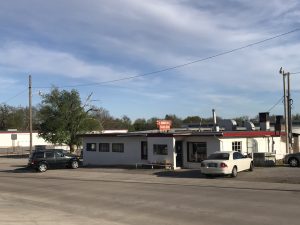 "I like the down home atmosphere of just coming and being relaxed, and coming any way you are, not fancy," she said. "There is nothing that is tainted or fast made, from the picking of the beans to the boiling of the potatoes for the potato salad. Nothing is instant or fast food here. It's all genuine, and homemade from scratch."
Roy's Barbecue is located at 309 W Missouri Ave, and is open from 10:00 a.m. to 7:00 p.m., Tuesday through Saturday